Al Gore now richer than Mitt Romney
With the sale of Current TV, the former vice president's fortune is pegged at more than $300 million.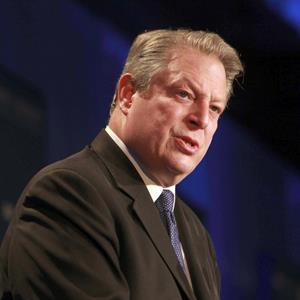 A lot has changed for former Vice President Al Gore, who left the White House with a reported $1.9 million net worth.

With an estimated $100 million gross profit from the sale of his Current TV to pan-Arab broadcaster Al-Jazeera, Gore is now worth more than $300 million, according to an estimate from Forbes.com.

That puts his net worth well ahead of that of former presidential candidate Mitt Romney, who has an estimated fortune of $230 million and was often mocked for being out of touch with ordinary Americans during the election.
Gore's wealth accumulation began soon after he left the White House in 2001. Apple (AAPL) tapped him in 2003 to serve on its board, and the former vice president held more than 100,000 shares and options in the tech company as of Dec. 17, according to a regulatory filing. That makes Gore's stake worth more than $56 million, based on Apple's recent trading price. 
Google hired Gore to serve as a senior adviser on environmental issues in 2001, a role he held for three years. He doesn't have a formal financial relationship with the company currently, Forbes.com reports. 
Gore also has his hand in a global investment company called Generation Investment Management, which he founded in 2004 with ex-Goldman Sachs (GS) executive David Blood. Together, Blood and Gore have reportedly built a company with assets under management of more than $6 billion.
The truth is, serving in the White House often proves beneficial to a person's financial health. 
Take a look at former President Bill Clinton, who since leaving the White House has built a net worth of about $38 million, helped by income as an author and public speaker. He's able to command speaking fees of more than $700,000, although more typically he is paid in the $500,000 range for his public events, reports CNN.com. 
Still, Gore's new wealth may strike some people as being at odds with his image as an environmental do-gooder.
Conservative television host Bill O'Reilly condemned Gore as a hypocrite, citing a report that he wanted to sell Current TV to Al-Jazeera before higher taxes kicked in on Jan. 1.
Other people have pointed out that Current's sale to Al-Jazeera, which is backed by Qatar, "reeks of irony," given Qatar's oil-based economy, which might not jibe with Gore's environmental message from "An Inconvenient Truth."

Gore's net worth might not be as high as Forbes estimates: Bloomberg, for one, pegged his profit at $70 million from the Current TV sale. If that's the case, his net worth might be only $270 million or so -- but that's still higher than Romney's. 
More on Money Now

DATA PROVIDERS
Copyright © 2014 Microsoft. All rights reserved.
Fundamental company data and historical chart data provided by Morningstar Inc. Real-time index quotes and delayed quotes supplied by Morningstar Inc. Quotes delayed by up to 15 minutes, except where indicated otherwise. Fund summary, fund performance and dividend data provided by Morningstar Inc. Analyst recommendations provided by Zacks Investment Research. StockScouter data provided by Verus Analytics. IPO data provided by Hoover's Inc. Index membership data provided by Morningstar Inc.
MARKET UPDATE
[BRIEFING.COM] The Dow Jones Industrial Average, Nasdaq Composite, S&P 500 and S&P 400 are each up 0.2% in what has been a choppy trade today. It is peculiar to see such uniformity in returns. If we didn't know any better, we'd say the computers are calling the shots today.

Whatever the case may be, it is evident that the market isn't going to cough up last week's gains easily -- certainly not today anyway.

Large-cap and mid-cap issues look to be the outlet of ... More
More Market News
TOP STOCKS
Are Netflix earnings a 'House of Cards'
Momentum stocks have taken a beating over the last few weeks so tech investors will be looking for positive news out of Netflix earnings after the close on Monday.