Dumb tax breaks cost America billions
Taxpayers have received 150 more of them over 40 years, but a handful really stand out as the most wasteful.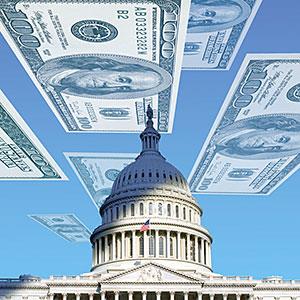 So you say you want a tax break? Great, because the 150 or so you've received since 1972 have worked like a charm so far.
Congress' Joint Committee on Taxation notes that the number of breaks offered to American taxpayers has grown from just 60 in 1972 to more than 200 today. So many, in fact, that when CNNMoney asked the Tax Policy Center which breaks are the worst, the center responded as if asked whether it would rather be burned to the ground or plowed into the ocean.
"It's hard to rank stupid tax provisions, because there are so many candidates," said Len Burman, the center's incoming director.
Some breaks disproportionately help some taxpayers more than others. In other cases, they're not much help at all and only make it more difficult to balance the nation's books. The folks at the Tax Policy Center reserved much of their ire for four tax breaks in particular:
Carried interest: Sound familiar? Warren Buffett assailed tax foe Grover Norquist for defending it, and President Barack Obama has also targeted it.
Basically, carried interest allows managers of private equity, venture capital and hedge funds to pay a lesser rate on their share of profits from the funds they manage. Instead of paying the top rates of 35% or 39.6%, they get the long-term capital gains tax rate of 20% on those carried interest earnings.
Fans of carried interest love it because it lessens their risk a bit. Critics say the fund managers are performing that service for a fee and should be taxed the same as everyone else. Were that to happen, the Joint Committee on Taxation estimates the higher rate would bring in an extra $17.4 billion over the next decade.
The health care exclusion: Yes, health care is costly enough even when an employer chips in. However, for 160 million Americans, even the tax-free employer-covered health care is subject to tax breaks that will cost an estimated $760.4 billion over the next five years.
State and local tax deductions: By deducting your state and local income tax, property taxes and others, the one-third of taxpayers who itemize tax deductions are effectively subsidizing those state and local governments, as CNNMoney explains. That gives states like California the means to jack up income taxes to 13.3% because their citizens know they can deduct their state income tax on their federal returns.
And it's costing the federal government $278 billion over the next half decade, according to the Joint Committee on Taxation.
Exclusion of capital gains taxes at death: It's one of the many ways the rich get richer. Basically, if a loved one dies and bequeaths you stock they've held for decades, you're not on the hook for any of the capital gains accrued by that stock during the original holder's lifetime. The gains start when you inherit the stock and taxes need to be paid only if you sell it.

DATA PROVIDERS
Copyright © 2014 Microsoft. All rights reserved.
Fundamental company data and historical chart data provided by Morningstar Inc. Real-time index quotes and delayed quotes supplied by Morningstar Inc. Quotes delayed by up to 15 minutes, except where indicated otherwise. Fund summary, fund performance and dividend data provided by Morningstar Inc. Analyst recommendations provided by Zacks Investment Research. StockScouter data provided by Verus Analytics. IPO data provided by Hoover's Inc. Index membership data provided by Morningstar Inc.
MARKET UPDATE
[BRIEFING.COM] The stock market began the new trading week on the defensive note with small-cap stocks pacing the retreat. The Russell 2000 (-1.4%) and Nasdaq Composite (-1.1%) displayed relative weakness, while the S&P 500 lost 0.8% with all ten sectors ending in the red.

Global equities began showing some cracks overnight after China's Finance Minister Lou Jiwei poured cold water on hopes for new stimulus measures. Specifically, Mr. Lou said the government has no plans to change ... More
More Market News