The high cost of unaffordable prescriptions
The CDC says many poor and uninsured people fail to take medication, leading to ER visits. One-fifth of all patients ask for cheaper drugs.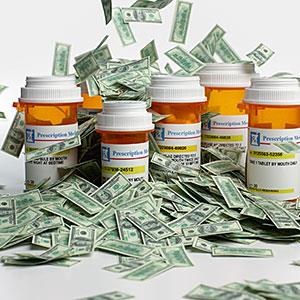 What happens when the doctor tells a patient to take two and call him in the morning but the patient can't afford the pills? 

America might soon find out what the ultimate cost of prescription drugs will mean for the country: more sick people, many of them uninsured and poor, according to a study from the Centers for Disease Control and Prevention. That could have the effect of more emergency room visits and other health crises for people unable or unwilling to shell out for prescription drugs. 
Regardless of income, a whopping one-fifth of Americans asked their doctors to prescribe a lower-cost medication, the study found. And remarkably, it seemed not to matter what age the patient was, with both those over 65 and those between 18 to 64 asking for cheaper drugs at about the same rates. 
Drug expenses are no small amount for Americans, who shelled out $325.7 billion last year on prescriptions, according to IMS Health data reported by The New York Times. That has ballooned from the $40.3 billion spent in 1990, according to the Kaiser Family Foundation.
Consumer Reports recently found a huge price difference at 200 pharmacies across the country. Lipitor at CVS (CVS), for instance, cost $150, compared with $17 for Costco (COST). 
While comparison shopping is one way patients can reduce costs, many people are simply skipping their pills altogether. 
While those with health insurance may have to pay a small copay on their drugs, it becomes a more serious issue for the 45 million Americans without coverage. People under the age of 65 are more likely to skip their meds. Those older than 65 qualify for Medicare.
Nearly one-quarter of uninsured people between 18 and 64 skipped buying prescribed medication as a way to save money, according to the report. About one-fifth of poor people also said they skipped taking medication.
That doesn't bode well for the health care system.
"Adults who do not take prescription medication as prescribed have been shown to have poorer health status and increased emergency room use, hospitalizations and cardiovascular events," the CDC study found. 
Laid off in October, Cobra ended Jan 31st or pay $1450 per month, 19 year old daughter with Epilepsy.  Translation--ran out of pills went for a refill today and the bill for a 30 day supply of Lamotrigine (the generic form is what she is after) is $2057, at Walmart.
So, she has 2 pills left.  We can't afford to buy it, can't afford to purchase insurance since nobody is hiring a 44 year old equipment operator who made $18 an hour, so now what.  After tomorrow, we will sit and wait for a phone call letting us know she is in a coma and a vegetable, dead, or hospitalized from a seizure.  It is now a matter of time for us. 
Applied for Medicaid.  They can't keep income, reported changes, or even a dropped off application straight.  So we have no Medicaid even though the states indigent care program insists they also will NOT help us since we are supposedly eligible for Medicaid.  Thanks Vestas for laying off my husband.  Our future has been jacked.
I know the feeling...I have a bi-polar son on Abilify....cost of that is over $1000 for 30 pills.  It won't go generic till 2015.  He's on my insurance now, but when that ends????  Who knows.  You can get discount cards that take 20-25% off the cost of a prescription, sometimes the manufacturer will help if you jump through enough hoops...what are you gonna do?  Even with a discount, that's still $750 - $800 a month...that's a mortgage payment!  He can't afford it, I can't afford it.  I guess we'll deal with it when the time comes.

Hold them Accountable ,pharmaceutical companies .Call your state rep,senator ,etc and complain about those uncalled for robbery .Complain ,complain ,other wise no one knows and or care about your hardship and financial situation and be clear about it ,health care is not for the rich it's for all .
Call the pharmaceutical for your medicine ,they can afford it and will provide you free of charge ,check with your doctor for samples ?
Sad but I'm with you ,can't believe what I'm seeing and hearing .
Thanks for educating me and sharing your struggle and hard ship and reality with all. 


If you're struggling to afford needed prescription medication, you might try comparing drug prices on www.PharmacyChecker.​com among verified online pharmacies. Generic drugs are often less expensive here in the U.S., but brand name medication is often 50-90% less internationally. Just make sure the websites you order from are approved in our program.
The PharmacyChecker Team

Health is a two way street.
The patient needs to educate themself first.  There is plenty of good information out there. Ask what causes my disease.  What am I doing to heal?  Is it the fast foods, the foods I buy in a box, the sugar and fats I eat?  How can I stop my cravings?  Ask Dr. Oz and many others on line.  Read magazines, listen to the radio, there are so many good resources out there.  It is our duty to become informed and our resposibility.  Not the doctors.  They can only  help you with the information you give them.
There is no reason we have to stay ignorant. There is plenty of healthy and affordable food that is within our budget.
As for the big Pharmas ask yourself too, why are we making a new drug for the same disease again and again at much higher prices?  We are failing if we do not honestly try to heal the patient and the disease.  Are we not in the business of helping people?  There are a lot of "improved" drugs for the same disease we are claiming is better this time.  But they do not work again. Why?  Why can't we do  it right the first time. 
The drug makers know full  well that patients can afford their drugs.  The FDA is not very much help either.  Rushing a new drug to the market that will be rejected after a short time is a waste of money and kills patients.  Predaxa?
Saying that we are short on people to do the work is no excuse.  Push back, make them do what needs to be done and if not show them the stick not the carrot. Make big pharma responsible and accountable for what they do.  Don'[t just give them a slap on the wrist and let them do it again with another drug.  People are dying from those drugs!  Doctors cannot prevent them from dying.  The body becomes a waste disposal of all the drugs in them.
Are you sure you want to delete this comment?
DATA PROVIDERS
Copyright © 2014 Microsoft. All rights reserved.
Fundamental company data and historical chart data provided by Morningstar Inc. Real-time index quotes and delayed quotes supplied by Morningstar Inc. Quotes delayed by up to 15 minutes, except where indicated otherwise. Fund summary, fund performance and dividend data provided by Morningstar Inc. Analyst recommendations provided by Zacks Investment Research. StockScouter data provided by Verus Analytics. IPO data provided by Hoover's Inc. Index membership data provided by Morningstar Inc.
MARKET UPDATE
[BRIEFING.COM] Recent action saw the key indices inch to fresh lows for the session. Including today's decline of 0.8%, the S&P 500 is lower by 0.5% so far in September. Despite the loss for the month, the benchmark index has fared a bit better than its higher-beta peers. On that note, the Nasdaq has given up 1.3% so far this month, while the Russell 2000 is down 3.7% for the month. Elsewhere, the price-weighted Dow (-0.5%) trades ahead of the broader market today and is up 0.6% for the ... More
More Market News