Why Wal-Mart is hiring so many veterans
The company is getting some positive word of mouth for its plan. It also gets some help with its huge turnover.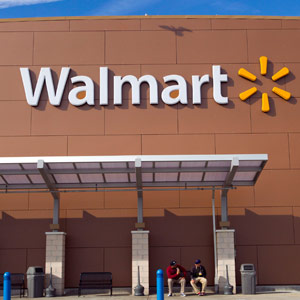 Wal-Mart Stores
(
WMT
) isn't planning to hire more than 100,000 veterans over the next five years out of the goodness of its heart, but that is not necessarily a bad thing.
As Matthew Yglesias at
Slate notes,
  "Wal-Mart is anticipating that demand conditions will warrant them adding a fair amount of staff over the next few years and that honorable service in the military is a good screening device."
Wall Street didn't have much response to the program, which goes into effect Memorial Day along with a pledge to buy an additional $50 billion in U.S.-made goods over the next decade. Shares of Wal-Mart, whose offer is only open to those with honorable discharges, barely budged Tuesday.
Derek Thompson
at the Atlantic
argued that Wal-Mart has been besieged lately by negative news such as the bribery scandal in Mexico and certainly could use some positive public relations. He also noted that Wal-Mart, like many retailers, has a huge turnover, so promising 100,000 veterans a job isn't as generous of an offer as it may seem. Veterans of the wars in Iraq and Afghanistan, though, could certainly use the help.
According to the latest data, the unemployment rate for former members of the military was 9.9%, the lowest since 2008, though well above the
national average of 7.8%
. That's particularly shameful given the billions taxpayers have spent training soldiers, sailors and Marines to do every type of job imaginable. Sadly, there were record numbers of suicides in the military last year. Of course, Wal-Mart's offer doesn't solve veterans' many problems but it certainly is helpful.
Veterans will be eligible for everything from part-time work to more senior roles, depending on their particular qualifications, according to Brooke Buchanan, a spokeswoman for the Bentonville, Ark., company.
"If they want a job in retail, they have one at Wal-Mart," she said in an interview.
The push to hire veterans is nothing new for Wal-Mart. It has recruited members of the military for managerial roles for years and currently has about 100,000 veterans on its U.S. payroll of 1.4 million. William Simon, the head of Wal-Mart's U.S. operations, served in the Navy. The company pledged in 2011 to donate $20 million to veterans charities, including Iraq and Afghanistan Veterans of America, which applauded Tuesday's announcement.
'With unemployment for Iraq and Afghanistan veterans often above 10% in 2012, we need more employers to appreciate that these young men and women are not a charity, they are an investment," says Paul Rieckhoff, CEO of Iraq and Afghanistan Veterans of America,in a statement to MSN. "Wal-Mart's footprint is large enough that they can single-handedly impact that unemployment number, especially if they exceed their 100,000 jobs goal."
Over the next few months, it will be interesting to see how many veterans will take Wal-Mart up on its offer and, of those that do, how many wind up sticking around for a year or more. That may prove to be a vexing challenge, as the Atlantic's Thompson notes.
"I know this may sound like quibbling, but Wal-Mart -- just like pretty much all big-box retailers -- still pays most of its workforce pretty miserably," he writes. "The average sales associate makes around $8 an hour. If that's the best we can for our veterans, we're not really doing very much."

--Jonathan Berr does not own shares of the listed stocks. Follow him on Twitter @jdberr.
More on Money Now
DATA PROVIDERS
Copyright © 2014 Microsoft. All rights reserved.
Fundamental company data and historical chart data provided by Morningstar Inc. Real-time index quotes and delayed quotes supplied by Morningstar Inc. Quotes delayed by up to 15 minutes, except where indicated otherwise. Fund summary, fund performance and dividend data provided by Morningstar Inc. Analyst recommendations provided by Zacks Investment Research. StockScouter data provided by Verus Analytics. IPO data provided by Hoover's Inc. Index membership data provided by Morningstar Inc.
MARKET UPDATE
[BRIEFING.COM] S&P futures vs fair value: -5.50. Nasdaq futures vs fair value: -13.00. Nasdaq at... NYSE Adv/Dec 0/0... Nasdaq Adv/Dec 0/0.
More Market News