All that Big Brother talk has '1984' sales spiking
The George Orwell classic has climbed by more than 3,000% on Amazon since the leak about US government surveillance programs.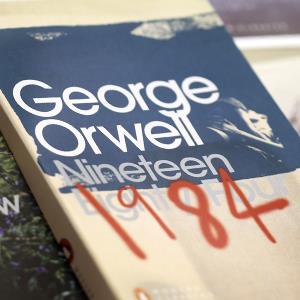 George Orwell's 64-year-old novel "1984" is getting a huge bump in sales after a leak exposed wide-ranging government surveillance efforts last week. 

The classic tale portrays a dystopian future in which the government -- Big Brother -- monitors its citizens via the Thought Police, which "could plug in your wire whenever they wanted to."
As Orwell wrote, "Asleep or awake, working or eating, indoors or out of doors, in the bath or in bed -- no escape. Nothing was your own except the few cubic centimeters inside your skull."
Sound familiar? Apparently it does to many Amazon.com (AMZN) customers, who've bought so many copies of "1984" that it now ranks 194th among all the books it sells. That's a jump of more than 3,300% during the past 24 hours, according to the site.
Many people are alarmed over news that the National Security Agency has been monitoring data not only from Verizon Communications (VZ) but also from online giants such as Google (GOOG) and Yahoo (YHOO), as MSN Money reported last week.
With all the disclosures -- courtesy of former Booz Allen Hamilton (BAH) employee Edward Snowden -- Americans might not be blamed for turning to "1984," although it's unlikely they'll find any solace there. Its main character, Winston Smith, ends up broken and devoted to the totalitarian government.
Orwell would have been alarmed by the kind of spying disclosed through Snowden's leaks, National Public Radio reports. "Throwing out such a broad net of surveillance is exactly the kind of threat Orwell feared," Michael Shelden, the author of "Orwell: The Authorized Biography," said. 
Even though many people consider Orwell's vision paranoid, it turned out that the British spy agency MI5 had tracked the writer from 1929 until he died in 1950. 
President Barack Obama on Friday defended the NSA program, saying he believes the government had "struck the right balance." But pointing to the threat of war or terrorism as a justification for spying concerned Orwell. 
"He could see that war and defeating an enemy could be used as a reason for increasing political surveillance," Shelden said. "You were fighting a never-ending war that gave you a never-ending excuse for looking into people's lives." That sounds as much like today's real world as the fictional one Orwell was conjuring in 1949.

Follow Aimee Picchi on Twitter at @aimeepicchi. 
DATA PROVIDERS
Copyright © 2014 Microsoft. All rights reserved.
Fundamental company data and historical chart data provided by Morningstar Inc. Real-time index quotes and delayed quotes supplied by Morningstar Inc. Quotes delayed by up to 15 minutes, except where indicated otherwise. Fund summary, fund performance and dividend data provided by Morningstar Inc. Analyst recommendations provided by Zacks Investment Research. StockScouter data provided by Verus Analytics. IPO data provided by Hoover's Inc. Index membership data provided by Morningstar Inc.
MARKET UPDATE
[BRIEFING.COM] The stock market finished an upbeat week on a mixed note. The S&P 500 shed less than a point, ending the week higher by 1.3%, while the Dow Jones Industrial Average (+0.1%) cemented a 1.7% advance for the week. High-beta names underperformed, which weighed on the Nasdaq Composite (-0.3%) and the Russell 2000 (-1.3%).

Equity indices displayed strength in the early going with the S&P 500 tagging the 2,019 level during the opening 30 minutes of the action. However, ... More
More Market News