Why aren't Bangladesh factories safer?
For one reason, companies like Wal-Mart and Gap have nixed proposals for independent inspections as being too costly and binding.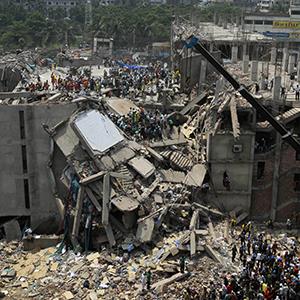 As Bangladesh still mourns the deaths of at least
380 garment workers
killed in a factory building collapse in Dhaka on Wednesday, it turns out the retailers that employed those workers had a chance to prevent this latest tragedy.
Back in November, 112 workers were killed by a fire at the Tasreen Fashions factory in a Dhaka suburb. After that fire, the Associated Press noted that clothing brands and retailers continued to reject a union-sponsored proposal to improve safety throughout Bangladesh's $20 billion garment industry. Instead, companies stuck with a patchwork system of private audits and training that labor groups say just doesn't work in a country where inspections are lax and factory owners are chummy with the government.
In the five months since the Tasreen blaze, Bangladesh factories have suffered 41 other "fire incidents," according to a labor organization tied to the AFL-CIO umbrella group of American unions. Combined, the recent incidents killed nine workers and injured more than 660.
Bangladesh has the world's lowest labor costs, with a minimum wage of about $37 a month for a garment industry job. Retailers and brands including Wal-Mart (WMT), H&M, Sears (SHLD), Gap (GPS) and Tommy Hilfiger (part of PVH Corp. (PVH) all produce clothes there.
In 2011, those companies were presented with a safety plan that would ditch government inspections and establish an independent inspectorate to oversee all factories in Bangladesh, with powers to shut down unsafe facilities as part of a legally binding contract signed by suppliers, customers and unions. The inspections would be paid for by contributions from the companies of up to $500,000 per year.
The "legally binding" and "contributions" portions of that plan made retailers including Wal-Mart, H&M and Gap nix it and, in some cases, go with internal audits, training films and inspections.

In the aftermath of the Tasreen Fashions fire, Wal-Mart earlier this month announced it was instituting a zero-tolerance policy for unauthorized subcontracting in Bangladesh. The world's largest retailer also said it was contributing $1.6 million to help launch an academy in Bangladesh "to provide comprehensive training on fire safety and environmental, health and workplace safety."
That didn't help workers in the recent Rana Plaza building collapse. Officials quoted by Reuters said factory owners in the latest disaster ignored warnings to keep people out of the building after cracks were discovered in it last Tuesday. Promises are lovely, but when buildings fall and workers die just months after such promises are made, it may be time for fewer promises and more legally binding plans.

If you don't learn from history your are doomed to repeat it.  The garment industry was one of the worst places to work in the United States in the late 1800's and early 1900's and while I'm not a fan of unions of today they made our working environment safer in those early years.  The lack of unions and the benefits that they forged for our forefathers are what keep the prices down overseas.  Wal Mart is so antiunion while having the owners some of the top 10 richest people on the planet makes perfect sense.  Don't pay a living wage, don't care what the working conditions are in the plants you support just keep raking in the mega  bucks.  God life in America is good.
Are you sure you want to delete this comment?
DATA PROVIDERS
Copyright © 2014 Microsoft. All rights reserved.
Fundamental company data and historical chart data provided by Morningstar Inc. Real-time index quotes and delayed quotes supplied by Morningstar Inc. Quotes delayed by up to 15 minutes, except where indicated otherwise. Fund summary, fund performance and dividend data provided by Morningstar Inc. Analyst recommendations provided by Zacks Investment Research. StockScouter data provided by Verus Analytics. IPO data provided by Hoover's Inc. Index membership data provided by Morningstar Inc.
MARKET UPDATE
[BRIEFING.COM]
Commodities ended the day mostly lower today with energy, excl natural gas, grains (corn, wheat and soybeans) and copper and silver all finishing in the red.
Gold and natural gas futures ended today's session higher.
Grains sold off today following the monthly USDA WASDE report.
Corn ended the day 2% lower at $4.87/bushel, soybeans lost 40 cents (or -2.7%) to $14.19/bu and wheat fell 14 cents (or ) to $6.39/bu.
Copper ended 1.6% to ... More
More Market News
TOP STOCKS
What ate into McDonald's sales?
Like many companies this winter, the fast-food giant blamed a drop in same-store sales on the weather. But could its problems be bigger than a snowbank?