Taco Bell vows healthy food, but not right away
Although the chain wants one-fifth of its combo meals to meet the government's nutritional guidelines, it won't be until 2020.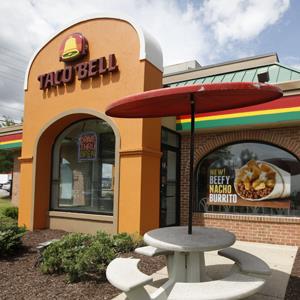 Yum Brands' (YUM) Taco Bell is vowing to get healthier, but fans of Volcano Nachos -- a 970-calorie plate of cheesy, beef-topped red tortilla strips -- shouldn't freak out just yet. 

The chain is considering ways to offer more "balanced choices," but those won't be coming any time soon, according to the Associated Press. Yum's move is a reflection of the pressure on fast-food chains to offer healthier options given the obesity crisis in the U.S.

Taco Bell is testing a "range of products" this year, with some menu items potentially reformulated, Chief Executive Greg Creed said on Wednesday. 
The goal is to have 20% of its combo meals meeting federal guidelines for calories and fat by 2020, which means a single meal would have one-third of the government's recommendation for daily caloric intake of 2,000 to 2,500. 
How many combo meals currently meet those guidelines? Taco Bell didn't know, the AP notes. 
A meal with as few as 660 calories would rule out some combos, such as the XXL Grilled Stuft Steak Burrito, which can include as many as 1,300 calories.
The announcement may strike some as a cynical marketing ploy, with Taco Bell aiming to portray itself as a health-conscious fast-food chain while not necessarily making any sacrifices now. And it's also debatable whether Taco Bell customers want to zip into its restaurants in search of healthy items. 
"Does anyone actually go to Taco Bell who is worried about calories or sodium?" nutritionist Robyn Flipse asked in USA Today. "I think their target is looking for something that is convenient, low-cost and fills them up."
And Taco Bell has tried healthy options in the past. USA Today cited its "Border Lights" menu, introduced in the mid-1990s, which failed to catch on and was pulled. Its current "Fresco" line, which includes lower-calorie options, is only 2% of sales, according to AP.
Meanwhile, one of Taco Bell's recent popular marketing ploys is urging consumers to down a "fourth meal," or a late-night repast that Salon criticized as only "feeding the obesity crisis."
Fueling late-night sour-cream-laden burrito binges is going to be a tough habit for Taco Bell to kick.
Aimee Picchi owns shares of Yum, but hasn't traded in the stock for at least 12 months. Follow her on Twitter at @aimeepicchi.
DATA PROVIDERS
Copyright © 2014 Microsoft. All rights reserved.
Fundamental company data and historical chart data provided by Morningstar Inc. Real-time index quotes and delayed quotes supplied by Morningstar Inc. Quotes delayed by up to 15 minutes, except where indicated otherwise. Fund summary, fund performance and dividend data provided by Morningstar Inc. Analyst recommendations provided by Zacks Investment Research. StockScouter data provided by Verus Analytics. IPO data provided by Hoover's Inc. Index membership data provided by Morningstar Inc.
MARKET UPDATE
[BRIEFING.COM] The IMF expressed its concerns before the start of today's trading that "excessive risk taking may be building up" with valuations for just about every major asset class looking stretched.

As one can see from the standing of the major indices, that warning went in one of the market's ears and out the other. Actually, we're not even sure it went in one ear. The market started with a bullish bias and has maintained that bias throughout today's session.

The ... More
More Market News
TOP STOCKS
Meet Alibaba's new billionaires
Despite its size, the IPO will create just two new members of the 10-figure club from its executive ranks. A few others could net hundreds of millions.