Seth MacFarlane gives Oscar telecast a ratings boost
While not universally lauded, his performance appears to have juiced viewership in at least one key demographic group.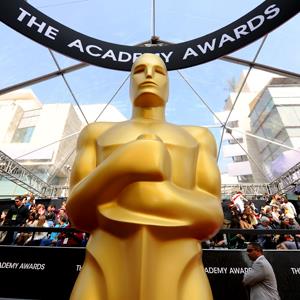 Seth MacFarlane was full of surprises when he hosted the Oscar awards show last night. This morning came another one: TV ratings for the 85th celebration of Hollywood's love affair with the movies were up over last year in the key 18- to 49-year-old demographic.
Early tallies for the show say it earned a 12.1 rating for that group, up more than from 3% from last year's final 11.7 figure, according to a report in
Broadcasting & Cable,
citing preliminary figures from Nielsen.
Entertainment Weekly
notes that total ratings for the Oscars also probably rose over last year's show hosted by Billy Chrystal. Final ratings, which may be different, will be released by Nielsen later today.
If these ratings hold, it will be a pleasant surprise for ABC and its corporate parent
Walt Disney
(
DIS
).Some had
wondered whether MacFarlane
, whose TV shows and movies appeal largely to men, would turn off the mostly female Oscar audience. His song-and-dance number celebrating actresses who have shown their breasts on the silver screen may have offended some, but it was tame stuff by MacFarlane's standards.
Best known as the creator of "Family Guy," MacFarlane got mixed reviews for his performance.
The Hollywood Reporter
noted that "He took the job extremely seriously and put himself out there. Ultimately, he excelled at balance." Others were less kind.
USA Today
blasted the show as being "awash in self-indulgence."   
What many MacFarlane detractors forget, though, is that there's a finite amount of celebrity back-slapping that viewers of the Academy Awards can stomach. Sharp-tongued hosts can remind the TV audience that the well-dressed men and women seated before them are making movies -- not curing cancer.
Given his ratings success and the show's desire to attract younger viewers, MacFarlane could even get asked back to host next year's telecast.
--Jonathan Berr does not own shares of the listed stocks. Follow him on Twitter @jdberr.

I watch the Oscars every year but it's pretty much a snooze fest when hosted by the likes of the now-ancient Billy Crystal and Whoopi Goldberg. MacFarlane brought in the edgy and at times tasteless humor that was expected of him--and he rocked the joint. My wife and I are beyond that 18-49 key demographic and we thought he was a hoot. His jokes were great, he has an outstanding singlng voice and can dance and--c'mon--a sock puppet version of "Flight", "We Saw Your Boobs", William Shatner as an ancient Capt. Kirk? I loved every minute of it.

I thought it was the worst ever, I think just as his animated shows appeal to a male audience, so did this Oscars. It was sexist and the humor was not as classy as prior telecasts. It was college humor, if that's who they want to appeal to then it succeeded. I won't watch again if he is the host, I expect a sense of humor  that appeals to everyone, men and women. It does make me a little sad, because I always thought of the show as very classy and if it stays this way, I'm not interested.

Worst Oscars yet !!! McFarlane was rude and obnoxious making sick twisted jokes and references. The music was way too loud overshadowing some of the speakers and the "Jaws" theme used to hurry along actors while they were speaking rude and insulting. (Flashing lights would have been a better choice).  Very disappointed
Are you sure you want to delete this comment?
DATA PROVIDERS
Copyright © 2014 Microsoft. All rights reserved.
Fundamental company data and historical chart data provided by Morningstar Inc. Real-time index quotes and delayed quotes supplied by Morningstar Inc. Quotes delayed by up to 15 minutes, except where indicated otherwise. Fund summary, fund performance and dividend data provided by Morningstar Inc. Analyst recommendations provided by Zacks Investment Research. StockScouter data provided by Verus Analytics. IPO data provided by Hoover's Inc. Index membership data provided by Morningstar Inc.
MARKET UPDATE
[BRIEFING.COM] The stock market began the new week on a cautious note. The S&P 500 lost 0.3%, but managed to erase more than half of its opening decline. Thanks to the rebound, the benchmark index reclaimed its 50-day moving average (1976.78) after slipping below that level in the morning.

Equities slumped at the open amid a couple global developments that dampened the overall risk appetite. Continued student protests in Hong Kong and a potential response from China weighed on the ... More
More Market News