Icahn may be buying into HP
Or maybe not. That has been the speculation Monday as HP continues a rally after nearly falling to $11 last month.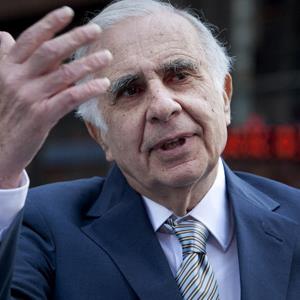 No one can say for sure if corporate raider Carl Icahn is gunning for
Hewlett-Packard
(
HPQ
). That's the story making the rounds on Twitter and elsewhere.
But the fact is Icahn hasn't filed anything with the Securities and Exchange Commission. He doesn't have to until he owns 5% of the stock. And the lack of disclosure has cooled off the speculation.
The stock was up 32 cents to $14.13 by 2:30 p.m. ET Monday after topping out at $14.59.
But this much we can say. Someone has been buying HP. It is up nearly 25% since bottoming on an intraday basis at $11.35 on Nov. 20, the day it disclosed it was writing off $8.8 billion of its $11 billion investment in British software company
Autonomy
.
HP officials say they were misled about the true state of Autonomy's finances. Former Autonomy executives dispute the charge, and the dispute could end up in a courtroom near you.
Meanwhile, the volume in HP is up, too. By 2:15 p.m. Monday, 37 million shares had changed hands. The daily average since July 2 has been 26 million shares. That includes Oct. 3, when 141 million shares were traded, and Nov. 20, when volume hit 154 million shares.
It could be Icahn, and lots of people on Wall Street know that just intimating Icahn is up to something can set off buying hysteria in a stock. He has taken a big stake in
Netflix
(
NFLX
). He made an unsuccessful run at truck-maker
Oshkosh
(
OSK
). Shares of both jumped when he started to move.
HP, meanwhile, is vulnerable. It has written off more than $17 billion in investments in two companies, Electronic Data Systems and Autonomy, this year alone. The stock is down 45% for the year and nearly 81% since its closing peak of $74.06 in April 2000. That's more than 12 years ago.
Still, it would take a little doing to buy 5% of HP, which translates into 98.5 million shares. It would require an investment of $1.43 billion. Icahn could borrow some of the money to buy the shares. But, still, it means a lot cash and a game plan on how to exit the trade. It's not clear what the game plan would be. He doesn't like being an owner-operator.
But if it isn't Icahn, who's buying and why? The short answer may be everyone is buying HP because they sense that the electronics giant may get broken up. 
Reuters Breakingviews thinks
the company is worth twice its market capitalization -- or about $52 billion or so -- if sold off in pieces. Here's how Reuters' Rob Cox and Robert Cyran break it down:
Computer business: $9 billion
Printers: $9 billion
Enterprise and servers: $22 billion.
Services: $17 billion
Software: $11 billion.
Net of debt, the company may be worth $52 billion. We'll see.
More from Money Now
DATA PROVIDERS
Copyright © 2014 Microsoft. All rights reserved.
Fundamental company data and historical chart data provided by Morningstar Inc. Real-time index quotes and delayed quotes supplied by Morningstar Inc. Quotes delayed by up to 15 minutes, except where indicated otherwise. Fund summary, fund performance and dividend data provided by Morningstar Inc. Analyst recommendations provided by Zacks Investment Research. StockScouter data provided by Verus Analytics. IPO data provided by Hoover's Inc. Index membership data provided by Morningstar Inc.
MARKET UPDATE
[BRIEFING.COM] S&P futures vs fair value: -5.50. Nasdaq futures vs fair value: -13.00. Nasdaq at... NYSE Adv/Dec 0/0... Nasdaq Adv/Dec 0/0.
More Market News