ATM charges $3 to give you $1
A crop of new machines that dispense small bills and even coins could end up costing customers much more in fees.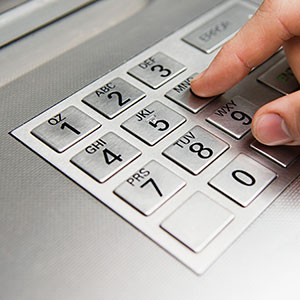 A crop of small-bill ATMs is sprouting up across the U.S., but consumers could end up spending more in fees than they withdraw. 

JPMorgan Chase (JPM) has installed as many as 400 ATMs that dispense bills in denominations from $1 to $100, while PNC (PNC) has upgraded more than half of its 7,200 ATMs to dispense $1 and $5 bills, reports CNN. 
While the ATMs are free for customers of the banks, consumers who use an out-of-network ATM will face the same fees as someone who takes out larger amounts: $3 for out-of-network customers, plus potentially an additional fee of about $1.60 from the customer's own bank. 

That might hit some of the banks' customers hard, especially those most likely to use the new feature: consumers with small account balances.
The banks want to appeal to customers with low-income account balances, or those who might want to withdraw less than $20 or an amount between $20 to $40, Bankrate.com senior financial analyst Greg McBride told CNN. 
"Particularly in difficult financial times when peoples' account balances have been lower, not having to withdraw more money than you really need is helpful," McBride said.
Some of Chase's new machines will soon dispense coins. The bank plans to pilot that service, and then expand it across the country. 
For the bank, the benefit is increased efficiency and less need for additional staffing, Chase's head of branch innovation told CNN. He described the machines as "next-generation ATMs or new teller platforms,' which include capabilities such as paying credit card bills. 
While the ATMs might offer more flexibility, consumers might want to make sure they're sticking with their own bank's ATMs when taking out a few dollars for lunch -- otherwise, that $5 sandwich could end up costing upwards of $8. 
More on Money Now
MARKET UPDATE
[BRIEFING.COM] Stocks ended modestly higher as the S&P 500 climbed 0.2%, and the Dow added 0.4% to register its 19th consecutive Tuesday of gains.

The major averages saw little change during morning action, but afternoon buying interest helped lift the indices to session highs. Most cyclical sectors (with the exception of materials and technology) finished among the leaders, but the defensively-geared health care sector settled atop the leaderboard as biotechnology outperformed. ... More
More Market News
TOP STOCKS
S&P 500 forecast to hit 2,100 by 2015
As the stock market reaches new highs, Goldman Sachs sees more gains ahead. Fueling the market: An improving economy, growing dividends and low interest rates.