Office Depot, OfficeMax tumble on deal news
After an embarrassing early release, the companies say the deal -- a 'merger of equals' -- is now done. Wall Street isn't cheering, though.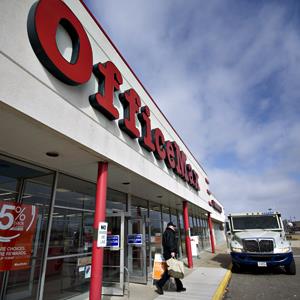 Who hit the send button prematurely on the press release announcing
Office Depot
's (
ODP
) $1.17 billion acquisition of
OfficeMax
(
OMX)
? That mystery has yet to be solved and may never be.
According to
Reuters
, a press release posted earlier on Office Depot's website trumpeting the deal was incorrect. An anonymous source told the wire service that "bankers and lawyers were still trying to finalize an agreement as of Wednesday morning." Their differences, though, appear to have been resolved.
OfficeMax sent me a copy of the release officially announcing a "merger of equals." But I don't know if any details were changed between the first and second press release. Spokespersons for both companies couldn't immediately be reached.
Wall Street, though, is acting as if the deal is for real. Shares of OfficeMax, which is based in Boca Raton, Fla., surged early today on the news before falling off more than 6% later. Office Depot is getting bashed, down more than 15% in midday trading, the typical reaction to a company making an acquisition.
Under the terms of the acquisition, Office Depot will issue 2.69 new shares for each outstanding share of Naperville, Ill.-based OfficeMax. The deal values OfficeMax at $13.50 per share, 26% higher than it closed at on Feb. 15, before word of their merger talks first appeared in the press.  Combined, the two companies will generate revenue of about $18 billion, trailing market leader
Staples
(
SPLS
), which had sales of more than $24 billion last year, according to
Bloomberg News.

Though companies often say they don't publicly discuss mergers and acquisitions with the press, the truth is that many do on a not-for-attribution basis. Deals are often leaked by public relations people, investment bankers or a combination of the two. A favorite tactic of deal leakers is to provide scoops on Sundays when markets are closed so they can't be accused of manipulating stock prices.

Jonathan Berr does not own shares of the listed stocks.  Follow him on Twitter @jdberr.
Are you sure you want to delete this comment?
MARKET UPDATE
[BRIEFING.COM] Stocks ended modestly higher as the S&P 500 climbed 0.2%, and the Dow added 0.4% to register its 19th consecutive Tuesday of gains.

The major averages saw little change during morning action, but afternoon buying interest helped lift the indices to session highs. Most cyclical sectors (with the exception of materials and technology) finished among the leaders, but the defensively-geared health care sector settled atop the leaderboard as biotechnology outperformed. ... More
More Market News
TOP STOCKS
S&P 500 forecast to hit 2,100 by 2015
As the stock market reaches new highs, Goldman Sachs sees more gains ahead. Fueling the market: An improving economy, growing dividends and low interest rates.