States fall short on helping struggling citizens
A report finds local governments are lacking when it comes to ensuring folks can secure a living wage and necessary benefits.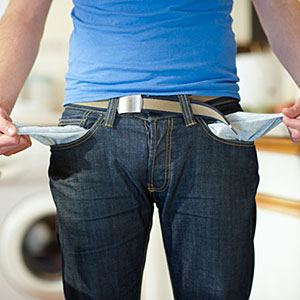 Blaming Congress for the nation's economic problems looks good in the comments fields and message boards, but the real culprit behind recent economic hardship may be closer to home.
As The Huffington Post found, Americans in every U.S. state are struggling because their state governments aren't doing enough to ensure they have a livable wage and benefits, according to the Economic Security Scorecard, a report released Tuesday by the nonprofit Wider Opportunities for Women.
The scorecard ranks states on their ability to promote policies that provide economic security -- including a livable minimum wage, good jobs that offer benefits like paid sick leave, and government programs offering child care assistance and housing help.
To give you some idea of how states are doing in this regard, not one received an A, and the highest score was Washington state's B-. Four states -- Utah, Tennessee, Mississippi and Alabama -- received the report card's lowest grade of D+ (rankings are determined by total numerical grade, not overall letter grade).
Rounding out the top 10 after Washington state were C+ states Vermont, Oregon, the District of Columbia, Wisconsin and Connecticut, along with C states New Jersey, Maine, New York and Iowa. The bottom four states shared the last 10 spots with C- Idaho, Arizona, South Dakota, Indiana, North Dakota and Missouri.
The report indicates that state policies that raise the minimum wage or guarantee housing preservation can be easily "undermined" when they aren't combined with other initiatives aimed at boosting economic security overall. Shawn McMahon, Wider Opportunities for Women's acting chief executive, told The Huffington Post that the result is a patchwork that makes many states unaffordable for struggling residents -- and puts the nation's economy at risk.
The fiscal cliff compromises, the sequestration spending cuts, and tight state and local budgets in the wake of the economic downturn haven't exactly helped matters either. Even if a state is relatively flush, the report found that its economic security has little to do with its fiscal health.
"Our research suggests it's something else," McMahon told The Huffington Post. "We think that (it's) primarily a matter of political will. That's what it comes down to ultimately. We do know that policy is always a budgetary issue, always a matter of money on some level, but money is not the determining factor."

Gee people Bernanke has proven the dollar is basically worthless as an economic tool and is printing trillions of them a year just to keep asset prices up.
But are high asset prices the right way to go???
Look the truth is this half of all working Americans only make $1 trillion dollars amongst them.
That is 58 million Americans making $1 trillion dollars doing the math that is only like $17,000 a year average. Considering the average house now costs $300,000 and the average car $30,000 a year we are talking about what $2,500 plus for housing a month and $500 a month for a car. Add in about $400 for water,natural gas,electrical power and then about $500 a month for food and then about $200 a month in gasoline money and the $1,600 a month for Obama Care (now officially a tax).
Add in about $500 for the extras clothes and shoes and stuff. And you are looking at about $6,200 needed for the average American to live on after taxes add in 10 percent state tax, 30 percent federal tax and another 10 percent for property tax and 2 percent for fees and stuff you are lookign at a before tax income of almost $12,000 a month for the typical family or about $143,000 a year gross income for a family of 4 to make it in America.
Considering that half of all families in America make less than $40,000 a year Bernanke's keeping asset prices inflated is going to be a total disaster.

Would it be shocking that states with a failing Grade, also percent wise, get a huge amount of Federal Dollars. Yet they are the first ones to scream about Welfare. We all know that local and state Government can be just as bad or Worse than the Federal Government. Tea Party types don't mention that. Heck, the Mainstream Media doesn't either.

Those states at the Bottom, Pay companies to come to their states. Then those same Companies pay the lowest WAGES in America. These companies also pay far lower tax rates if not avoiding them all together. So for what ever the short term gain, in the END, it's a losing Game for Everyone except the Corporation. Eventually folks will figure that out.


Draw your anger and attention to Goldman Sachs... their IPO in 1999 coincides with the collapse of a mortgage industry that almost pulled completely out and away from banks before banks pulled their credit facilities without notice and killed private sector enterprise. Next thing you know, Gramm Leach Bliley Act is slipped into another piece of legislation and passes- making it LEGAL to collude without regulation and supervision in the Financial Sector. Hank Paulsen- the CEO of GS becomes Treasury Secretary under Dubya and authors the T.A.R.P. bail-outs. He also let's Goldman Sachs and Morgan Stanley become banks that can get money directly from the Federal Reserve but not have branches. It was the Analysts from GS & MS & JPM that recommended the termination of millions of breadwinners literally collapsing households, communities, counties, states AND our Federal Government. We went to war over oil masked as a War on Terror Over There when it was always here from Day One. GS IS the Center of Terror. It created and implemented ALL of those bonds and loans to ALL of the foreign countries that have since collapsed. We have Goldman Sachs alumni in every financially-oriented​ aspect of our government and the best they could come up with is-- having the Federal Reserve create way more than $16 Trillion is false money ($85 Billion more each month) and only put it in the stock markets! Latest Goldman Sachs forecast? That the MARKETS rise more than 25% MORE over the next two years. Jobs, households, families, America's future? Driven into complete destitution. TIME FOR CHANGE, AMERICA. GOLDMAN SACHS HAS TO GO AWAY IN EVERY WAY POSSIBLE.
Are you sure you want to delete this comment?
DATA PROVIDERS
Copyright © 2014 Microsoft. All rights reserved.
Fundamental company data and historical chart data provided by Morningstar Inc. Real-time index quotes and delayed quotes supplied by Morningstar Inc. Quotes delayed by up to 15 minutes, except where indicated otherwise. Fund summary, fund performance and dividend data provided by Morningstar Inc. Analyst recommendations provided by Zacks Investment Research. StockScouter data provided by Verus Analytics. IPO data provided by Hoover's Inc. Index membership data provided by Morningstar Inc.
MARKET UPDATE
[BRIEFING.COM] The S&P 500 trades lower by 0.4%, while the Russell 2000 (-0.9%) underperforms.

Just reported, existing home sales hit an annualized rate of 5.05 million units in August, while the Briefing.com consensus expected a reading of 5.20 million. The pace for August was up from the prior month's revised rate of 5.14 million units (from 5.15 million). Nasdaq -26.88 at 4552.91... NYSE Adv/Dec 559/2272... Nasdaq Adv/Dec 561/1935.
More Market News