Wal-Mart's low wages cost taxpayers plenty
A new report says the retail giant's workers often need public aid. Such payments could total $1.7 million for a single Superstore.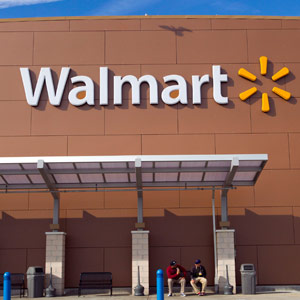 Wal-Mart (WMT) is a favorite of many consumers because of its low prices, but a new report claims those bargains have a dark side. 

Because of the chain's low wages, its workers are often pushed to accept public aid, including food stamps and subsidized housing, according to a report from congressional Democrats.
That means a single Wal-Mart Supercenter store in Wisconsin may require taxpayers to shell out as much as $1.7 million per year -- or nearly $6,000 per employee -- in aid, according to one estimate in the report. A second estimate pegged the cost to taxpayers at a lower $904,542 per Supercenter. The study examined Wal-Mart stores in Wisconsin because of the availability of Medicaid enrollment data for the fourth quarter of 2012.
"When low wages leave Wal-Mart workers unable to afford the necessities of life, taxpayers pick up the tab," the report notes. "Taxpayer-funded public benefit programs make up the difference between Wal-Mart's low wages and the costs of subsistence."
Wal-Mart defended its record by noting the company offers opportunities to its workers, spokeswoman Brooke Buchanan told The Huffington Post. She said 75% of Wal-Mart managers started as hourly employees. The company provides "a chance to move up in the ranks," she said.
It's not as if Wal-Mart doesn't have the resources to increase wages. The retailer, which employs about 1.4 million U.S. workers, earned $17 billion in profits last year. While the report notes it's not clear how much Wal-Mart pays its hourly workers, one research company pegs the average at $8.81. (That's above the federal minimum wage of $7.25 but below President Barack Obama's call for a $9 baseline wage.) 
At $8.81 per hour, the average Wal-Mart sales associate would gross about $18,300 per year, or well within the income range for a family of four to receive food stamps.
In Wisconsin, Wal-Mart was ranked as the employer with the most workers on the state's Medicaid program, the report notes. Even though 3,216 employees qualify for Medicaid, Wal-Mart is responsible for 9,207 enrollees because of children and adult dependents of those workers. 
Meanwhile, some Wal-Mart employees are participating in strikes around the country and leading a protest in caravans to the company's annual shareholder meeting on Friday, the Nation notes. 
One employee who plans to join the protest told The Huffington Post: "I'm not a screw-off employee by any means, and it's upsetting to me that I can't even support myself at 45 years old."
Follow Aimee Picchi on Twitter at @aimeepicchi. 
DATA PROVIDERS
Copyright © 2014 Microsoft. All rights reserved.
Fundamental company data and historical chart data provided by Morningstar Inc. Real-time index quotes and delayed quotes supplied by Morningstar Inc. Quotes delayed by up to 15 minutes, except where indicated otherwise. Fund summary, fund performance and dividend data provided by Morningstar Inc. Analyst recommendations provided by Zacks Investment Research. StockScouter data provided by Verus Analytics. IPO data provided by Hoover's Inc. Index membership data provided by Morningstar Inc.
MARKET UPDATE
[BRIEFING.COM] The major averages ended the midweek session with slim gains after showing some intraday volatility in reaction to the release of the latest policy directive from the Federal Open Market Committee. The S&P 500 added 0.1%, while the relative strength among small caps sent the Russell 2000 higher by 0.3%.

Equities spent the first half of the session near their flat lines as participants stuck to the sidelines ahead of the FOMC statement, which conveyed no changes to the ... More
More Market News