Your gain, the repo man's pain
Vehicle repossessions have plunged by more than a third as frugal car buyers and a stronger economy help keep the tow trucks at bay.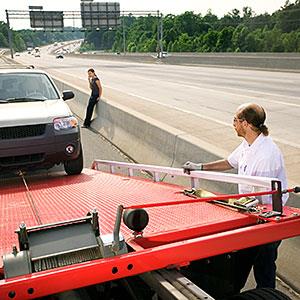 Stop looking at jobless numbers, new-home sales, housing starts, auto sales and consumer spending for signs of an economic recovery.
If you really want to know how the nation's finances are faring, ask your local repo crews. While business was booming at the height of the recession in 2009, U.S. repossession specialists have spent less time pulling cars off streets and out of parking lots in the last year and more time fretting over their own jobs.
Auto repossessions peaked at 1.9 million nationwide in 2009, according to Manheim Auctions, as lessees and owners fell behind on payments. Last year, however, repossessions dropped to 1.3 million as auto companies like General Motors (GM -0.21%) tightened credit restrictions and car buyers scaled back. Likewise, the folks at Experian Automotive, the car branch of Experian's national credit reporting service, found that repossessions dropped by nearly a third during that span.
As CNNMoney reports, the increased frugality of the American car owner has brought tough times to the repo industry, which thrives on overleveraged owners unable to keep up with their high payments. Fleets of tow trucks are being cut nearly in half, and payment per repossession has dropped almost 25%. For some repo companies in the Northeast, business is down 66% or more.
And while U.S. car sales increased 13% in 2012, according to MotorIntelligence, reliable older cars are causing headaches for the repo man these days. Auto information company Polk says that since 2010, the average age of vehicles on U.S. roads has hovered around 11 years. Among cars alone, that's been the average age since about 2008, as uncertain Americans held on to their vehicles during tumultuous economic times.
At the same time, more Americans are shunning new vehicles altogether in favor of used car lots. Manheim's Used Vehicle Value Index is down from record highs set in 2011 and early 2012, but used car prices are still much higher than they were in 2010. Used car inventories are just starting to recover as government agencies and car rental companies strapped by the recession start spending on fleets again.
All this means the repo industry has fewer leased and financed vehicles to put on its flatbeds. Sure, some Americans are having an easier time making payments now that they're employed again and have swapped their luxury SUVs for sensible small or midsize cars. But fewer Americans worrying about car payments means a lot more repo agents worrying about their next paycheck.
DATA PROVIDERS
Copyright © 2014 Microsoft. All rights reserved.
Fundamental company data and historical chart data provided by Morningstar Inc. Real-time index quotes and delayed quotes supplied by Morningstar Inc. Quotes delayed by up to 15 minutes, except where indicated otherwise. Fund summary, fund performance and dividend data provided by Morningstar Inc. Analyst recommendations provided by Zacks Investment Research. StockScouter data provided by Verus Analytics. IPO data provided by Hoover's Inc. Index membership data provided by Morningstar Inc.
MARKET UPDATE
[BRIEFING.COM] The stock market is doing pretty much what it was expected to do today in front of the FOMC decision (i.e. nothing). The major indices are little changed as traders wait anxiously for the Fed's latest directive and updated economic projections.

Everyone is waiting to see if the "considerable time" language is maintained in the directive after Wall Street Journal Fed watcher, Jon Hilsenrath, suggested yesterday it could be.

Mr. Hilsenrath's article ... More
More Market News