How McDonald's stole Christmas
The fast-food giant suggests franchisees open for the holiday after seeing Thanksgiving sales jump.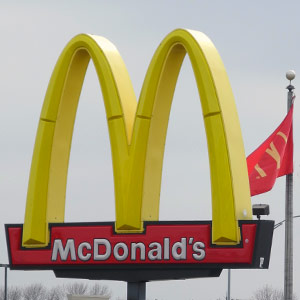 Merry Christmas from McDonald's (MCD)! Now put on a smock, suggest some fries with that and help Ronald make his sales goal this quarter.
McDonald's, which once used the starving homeless child pictured in this clip from 1985's "Santa Claus: The Movie" to sell seasonal tie-in Happy Meals and story books, is getting its franchisees into the holiday spirit by not-so-subtly suggesting they stay open through the holidays. As AdAge reported, a Nov. 8 memo from McDonald's USA chief operating officer Jim Johannesen explains why it's imperative to keep the Golden Arches lit through the new year:
"Starting with Thanksgiving, ensure your restaurants are open throughout the holidays. Our largest holiday opportunity as a system is Christmas Day. Last year, [company-operated] restaurants that opened on Christmas averaged $5,500 in sales."
Gawker writer Hamilton Nolan so aptly and bluntly notes that McDonald's Dickensian stance just put a $5,500 price tag on a franchisee's Christmas Day and turned a holiday closure in deference to franchisee and employee families into an "opportunity." Asked whether employees would at least get a little more holiday cheer with their paycheck, a McDonald's spokesperson -- scarcely audible over the clattering of chains forged during a life of indifference and inhumanity -- replied that "when our company-owned restaurants are open on the holidays, the staff voluntarily sign up to work. There is no regular overtime pay." McDonald's didn't comment on their employees' potential holiday alternatives, including prisons and workhouses.
So how did Ronald McDonald go from holiday commercials of him teaching kids how to skate to pulling their parents out of the house on Christmas morning and shoving them in front of the fryers for no additional pay? Somebody messed with his cash flow.
Even after expanding hours and tinkering with its menu, McDonald's reported a 3.5% drop in revenue last quarter. Back in October, sales at U.S. stores dropped 2.2%. When the company recovered with a 2.5% sales increase last month, it declared open season on holidays by crediting Thanksgiving hours for the boost. Johanssen sent out another memo on Dec. 12 saying that not only did company-owned restaurants bring in $6,000 a pop on Thanksgiving Day, but that McDonald's opened 6,000 more stores that day than it did a year ago.
McDonald's doesn't see its franchisees, its employees, or even $5,500 to $6,000 when those stores stay open: It sees an extra $80 million or so to pad this quarter's figures. It also sees that it's not alone in seizing some holiday "opportunity," despite being among the few who don't pay extra to do so.
Target (TGT) and Wal-Mart (WMT) were among the other major retailers to open on Thanksgiving Day this year and watched sales on that day soar and bolster otherwise slumping November numbers. Panda Express, Sonic (SONC), Yum Brands' (YUM) Taco Bell and DineEquity's (DINE) Applebee's all leave it up to franchisees to decide whether or not they'll open on Christmas Day. Jack In The Box, Starbucks (SBUX), Dunkin' Donuts (DNKN) and IHOP also tend to keep the doors open that day. Not only is Denny's (DENN) open for the holiday, but Christmas Day is one of the biggest sales days on its calendar as folks flock in for a holiday breakfast they don't have to make.
Movie theater chains like Regal Entertainment (RGC) and Carmike (CKEC) are going to be open, too, as Quentin Tarantino's slavery revenge fantasy "Django Unchained," the Seth Rogen/Barbara Streisand mother-son comedy "Guilt Trip," Judd Apatow's coming-of-middle-age​ story "This Is 40" and the musical "Les Miserables" are all being released on or around Christmas Day.
Not only is McDonald's larger and more widespread than just about all of the aforementioned companies, but it's also making it quite clear that it's doing an about-face on its holiday policy simply to pad the stats. While some employees will work around it and may have a need for the extra cash that their colleagues at Denny's and Regal make each year, McDonald's memos prompting franchisees to turn the Arches on weren't penned with the employees in mind. McDonald's sales losses in October were its first in nine years. After learning on Thanksgiving that taking away a holiday is the easy answer, McDonald's isn't above pulling Christmas dinner off employees' plates and replacing it with a value meal if it means a few more presents under the company tree.
Consider it just a friendly way of telling employees and their families that Santa doesn't buy their gifts. Ronald does, and the clown's got to get paid.
More from Money Now
DATA PROVIDERS
Copyright © 2014 Microsoft. All rights reserved.
Fundamental company data and historical chart data provided by Morningstar Inc. Real-time index quotes and delayed quotes supplied by Morningstar Inc. Quotes delayed by up to 15 minutes, except where indicated otherwise. Fund summary, fund performance and dividend data provided by Morningstar Inc. Analyst recommendations provided by Zacks Investment Research. StockScouter data provided by Verus Analytics. IPO data provided by Hoover's Inc. Index membership data provided by Morningstar Inc.
MARKET UPDATE
[BRIEFING.COM] The stock market finished an upbeat week on a mixed note. The S&P 500 shed less than a point, ending the week higher by 1.3%, while the Dow Jones Industrial Average (+0.1%) cemented a 1.7% advance for the week. High-beta names underperformed, which weighed on the Nasdaq Composite (-0.3%) and the Russell 2000 (-1.3%).

Equity indices displayed strength in the early going with the S&P 500 tagging the 2,019 level during the opening 30 minutes of the action. However, ... More
More Market News