Can the Egg McMuffin save McDonald's?
A no-yolk version in the U.S. and 1 million free sandwiches in China are the chain's first line of defense against its detractors.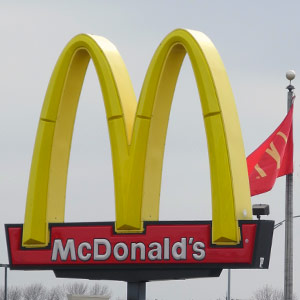 The average consumer looks at the Egg McMuffin and sees an eggy substance, occasionally joined by a meat of choice, mashed between two puck-sized bits of bread.
McDonald's
(
MCD
) looks at its marquee breakfast sandwich and sees the perfect weapon for smiting its enemies.
When faced with health-conscious U.S. eaters concerned about the Egg McMuffin's 300 calories, the Golden Arches parried with a new "Egg White Delight" version that tones down the yolk and swaps in a whole wheat muffin. When Ronald worried that an influential Chinese news show that outed its food safety shortcomings in 2012 will target him again this year, Reuters says, he unleashed a deluge of 1 million free McMuffins on Chinese consumers in a pre-emptive strike.
Whether a little morning sustenance will change skeptics' minds remains to be seen, but McDonald's really needs some help from its top non-burger right now. McDonald's February same-store sales were down not only 3.3% in the U.S. but 1.5% worldwide. While the chain blames the loss of an extra sales day from 2012's leap year, the spit-take reaction to its new Fish McBites here in the States certainly hasn't helped.
Even McDonalds' latest Egg McMuffin moves have a halfhearted air to them. The new egg-white version claims to be healthier, but clocks in at only 50 calories less than its predecessor. It's also a somewhat odd choice, considering McDonald's removal of Chicken Selects and apple walnut salad from U.S. menus.

As for those million Egg McMuffins being doled out to Chinese consumers, that's roughly one breakfast sandwich for every 1,350 people in the country. That's not likely to build a whole lot of goodwill ahead of Friday's broadcast of "3.15," an incredibly popular Chinese news show that has made its name publicly shaming companies for violations of consumer trust. McDonald's is just one of several big companies that have been trying to play nice with the Chinese market ahead of the show's latest installment.
Last year, when "3.15" whacked McDonald's for its approach to food safety, the chain was targeted by a wave of bloggers, McDonald's share prices plummeted. The company was forced to issue a public apology.

While U.S. concerns about obesity are nothing to shrug off, China is in no mood to humor big companies charged with feeding its citizens. Much of the nation is already riled up by the discovery of thousands of dead pigs floating in a river that's one of Shanghai's main water sources.
It's not opposed to slapping around a fast-food chain or two, either. Just look at the food safety scare in December that sent sales at Yum Brands (YUM) restaurants like KFC and Pizza Hut into a spin.
That puts a whole lot of pressure on McDonald's little breakfast muffin. It's the friendliest face McDonald's can show its foes these days.
DATA PROVIDERS
Copyright © 2014 Microsoft. All rights reserved.
Fundamental company data and historical chart data provided by Morningstar Inc. Real-time index quotes and delayed quotes supplied by Morningstar Inc. Quotes delayed by up to 15 minutes, except where indicated otherwise. Fund summary, fund performance and dividend data provided by Morningstar Inc. Analyst recommendations provided by Zacks Investment Research. StockScouter data provided by Verus Analytics. IPO data provided by Hoover's Inc. Index membership data provided by Morningstar Inc.
MARKET UPDATE
[BRIEFING.COM] The stock market finished the Tuesday session on the defensive after spending the entire day in a steady retreat. The S&P 500 (-0.6%) posted its third consecutive decline, while the small-cap Russell 2000 (-0.9%) slipped behind the broader market during afternoon action.

Equity indices were pressured from the start following some overnight developments that weighed on sentiment. The market tried to overcome the early weakness, but could not stage a sustained rebound, ... More
More Market News