Madoff makes millions on a real investment
Convicted Ponzi schemer Bernie Madoff invested in a legitimate biotech company and saw his stake double in value. Who gets the profit?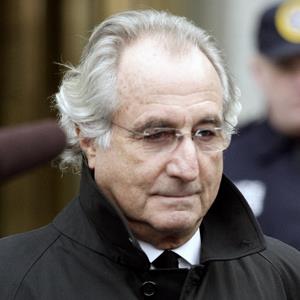 Convicted con artist Bernie Madoff, whose name has become a byword for swindler, actually made an investment that's paid off -- and it's all real.

Madoff invested $2.2 million in a biotechnology company called Stemline Therapeutics (STML), which went public on Tuesday in the first biotech IPO this year, according to the New York Post.
With the company selling shares at $10 each, Madoff's $2.2 million investment was turned into $5.5 million. 
Of course, most of Madoff's other "investments" turned out to be a sham. Madoff is thought to have masterminded the biggest U.S. financial fraud ever, convincing his clients that he was generating steady returns through his investing acumen. In reality, he admitted in court, when clients wanted to cash out, he paid them with money that belonged to other clients.
Madoff is serving a 150-year sentence in a federal prison. 
The investment in Stemline Therapeutics may provide some relief to his victims, the Post notes. 
A court-appointed trustee, Irving Picard, has filed a lawsuit against a Madoff family fund seeking to grab the winning investment on behalf of the victims. Madoff's son Andrew is the "interim manager" of Madoff Family LLC,
according to Stemline's prospectus
. The Madoffs own 515,203 shares of the company, or about 6.9% of its post-IPO shares, the regulatory statement notes.
Picard's suit states that the Stemline shares rightfully belong to Madoff's former clients.

Stemline develops treatments for cancer tumors and cancer stem cells, but has yet to bring in revenue from its operations, according to its prospectus.
More on moneyNOW

It doesnt take a genius to figure out that this should not even be a debate.   Any and all of Madoff assetts should have been frozen than and now to be given back to the losers of the scam he had going.   Let this be a simple lesson if not already known.   If you steal or take monies or property  from anyone you are now and forever responsible to repay that debt..
To add to responses.   The matter of giving back monies that investors actually made a profit is monies that should have been given back also if the money was stolen from others to pay the profit.  It
would be no different if you knew or not.   An example of this would be if you bought something that was stolen and you are found out it requires you to give it back to the owner.  Cars are stolen and this
is an example of that.   If you buy a stolen car you must give it back with no question.  I know life is not always fair to everyone, even when they are trying to be honest and lawabiding citizens.
Are you sure you want to delete this comment?
DATA PROVIDERS
Copyright © 2014 Microsoft. All rights reserved.
Fundamental company data and historical chart data provided by Morningstar Inc. Real-time index quotes and delayed quotes supplied by Morningstar Inc. Quotes delayed by up to 15 minutes, except where indicated otherwise. Fund summary, fund performance and dividend data provided by Morningstar Inc. Analyst recommendations provided by Zacks Investment Research. StockScouter data provided by Verus Analytics. IPO data provided by Hoover's Inc. Index membership data provided by Morningstar Inc.
MARKET UPDATE
[BRIEFING.COM] The major averages ended the midweek session with slim gains after showing some intraday volatility in reaction to the release of the latest policy directive from the Federal Open Market Committee. The S&P 500 added 0.1%, while the relative strength among small caps sent the Russell 2000 higher by 0.3%.

Equities spent the first half of the session near their flat lines as participants stuck to the sidelines ahead of the FOMC statement, which conveyed no changes to the ... More
More Market News