When community college beats getting a bachelor's
For many middle-wage jobs, the cheaper 2-year associates degree makes more financial sense than spending 4 years in classrooms.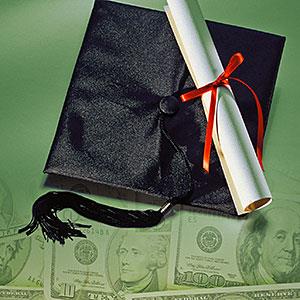 Community college: It's not just a setting for a cult
NBC sitcom
anymore.
Hold your nose if you must, four-year college snobs, but even the starched shirts at Georgetown University's Center on Education and the Workforce acknowledge that nearly 30% of Americans with associate's degrees from community colleges make more than their counterparts with bachelor's degrees. In fact, as CNNMoney reports, community college graduates in several states make more immediately after graduation than those who graduate from four-year institutions.
The average wage for graduates of community colleges in Tennessee, CNNMoney notes, is $38,948. That's more than $1,300 higher than the average salaries for students who graduate the state's four-year colleges.
In Virginia, the $40,000 starting salary for community college students earning occupational and technical degrees is $2,500 higher than bachelor's degree recipients. Those salaries tend to even out as bachelor's degree earners advance -- with associate's degree recipients averaging about $500,000 more over their careers than people with only high school diplomas, but $500,000 less than bachelor's degrees recipients. However, the community college grads get an even bigger head start by paying less for their education up front.
A two-year community college degree costs about $6,262, according to the College Board. A bachelor's degree from a four-year, in-state public school, averages $34,620 before factoring in room and board, which brings it to $71,440. That's still a bargain compared to a four-year private residential university, which currently averages $158,072 for a degree. It's even more so when considering the art- and law-school students drowning in debt and doctorate recipients on food stamps in the current economy.
The general consensus is that no matter how students complete their college education, having one is a huge plus in the post-recession job market. When 29 million jobs paying middle-class wages require only two-year degrees (including $113,000 for air-traffic controllers, $76,627 for radiation therapists, $70,408 for dental hygenists and $65,000 for registered nurses, according to CareerBulider.com), the folks at Georgetown wonder aloud why more Americans don't have them.
Only 10% of American workers have the two-year degree needed for those mid-level jobs, while the National Student Clearinghouse Research Center reports that enrollment at community colleges fell 3.1% this year. Community college graduation rates in the U.S. also aren't much to speak of.

American community colleges still grapple with an image crisis that renders them "high school plus" for young students looking to continue their education and "night school" for older students looking to polish their skills. Their buy-in price and results suggest that image may be about as close to reality as Chevy Chase sharing a classroom with Alison Brie.

Unfortunately UOP has lost its way and is concerned about finances for students. Being a student from the school that went for my Masters in Healthcare Admin, it was rather costly but I was a professional, father, and mentor that needed the online convenience. I know there is the big debate on online schools verse traditional universities, but I am a product of both (Univ of MD and UOP). I have hired a couple of people with Univ of Phoenix behind there name and the school does not make up the person. I was taken off guard by the amount of work they actually give you as it is a lot, and I don't think it was the curriculum, I think it's more about their negative financial "acts" that's the issue. Ijs....
Are you sure you want to delete this comment?
DATA PROVIDERS
Copyright © 2014 Microsoft. All rights reserved.
Fundamental company data and historical chart data provided by Morningstar Inc. Real-time index quotes and delayed quotes supplied by Morningstar Inc. Quotes delayed by up to 15 minutes, except where indicated otherwise. Fund summary, fund performance and dividend data provided by Morningstar Inc. Analyst recommendations provided by Zacks Investment Research. StockScouter data provided by Verus Analytics. IPO data provided by Hoover's Inc. Index membership data provided by Morningstar Inc.
MARKET UPDATE
[BRIEFING.COM] The S&P 500 (-0.5%) remains pressured as every uptick has been met with selling activity. This morning, the health care sector (-0.6%) was an early source of weakness in reaction to concerns about the impact of new rules on tax inversion deals.

Over the past 30 minutes, Bloomberg reported that Pfizer (PFE 30.01, -0.17) has approached Actavis (ACT 242.88, +7.02) about a potential acquisition. Actavis, which traded with a slim loss ahead of the reports, has ... More
More Market News