Wal-Mart resists pressure on gun sales
The retailer has withstood similar criticism for years. Many locations have sold out of semi-automatic rifles since last week's Connecticut school shooting.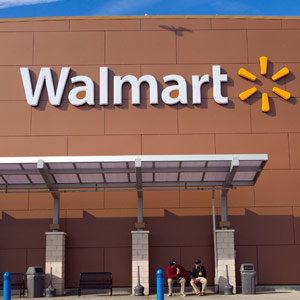 Wal-Mart
(
WMT
), the world's largest retailer, is resisting pressure to curtail sales of semi-automatic weapons similar to the ones used in last week's massacre at a Connecticut elementary school.
Freedom Group, the corporate owner of Bushmaster, the maker of the weapon used by Sandy Hook Elementary killer Adam Lanza, gets about 13% of its sales from Wal-Mart, which is probably the one of the biggest sellers of firearms and ammunition in the country.
Many Wal-Mart locations have sold out of semi-automatic rifles since the school shooting, Bloomberg
reports
. The company's website says several guns are out of stock in five states. Prices for gun magazines were reportedly surging on
eBay
(
EBAY
), according to the news service.
Wal-Mart sells modern sporting rifles, the term the industry uses to describe weapons similar to the M-16 used by the military, in about 1,200 locations and does not sell high-capacity magazines for these weapons, according to
Bloomberg
. The news service quotes spokesman David Tovar as saying, "We remain dedicated to the safe and responsible sale of firearms in areas of the country where they are sold."
Sales of guns and ammunition have surged in the days after the Dec. 14 incident as buyers worried about a crackdown by President Barack Obama, who on Wednesday asked Vice President Joe Biden to lead a task force on gun violence that will issue recommendations by next month. It seems likely that a new assault weapons ban will head to a vote in the Congress in the coming months that the political powerful gun lobby will have difficulty stopping.
Gun control advocates can't overplay their hand. Attacking Wal-Mart too aggressively for selling guns to people legally able to buy them could turn the retailer into a martyr for the Second Amendment. Customers will rally around the retailer, like people did when Chick-fil-A was attacked for its views on gay rights, and buy even more firearms and ammunition. Gun critics should ask themselves whether they prefer that people buy weapons through a multinational company which is accountable for its actions or a gun show dealer where restrictions are not as stringent.
Wal-Mart has to be careful as well. Perhaps the company believes that pressure to curtail gun sales, which includes an online petition, will die down as the massacre at Sandy Hook Elementary fades from people's memories. That would be a mistake.  The slaughter of 20 children and six educators is forever etched in the nation's consciousness. 


--Jonathan Berr does not own shares of the listed stocks.  Follow him on Twitter @jdberr.


More from Money Now
About moneyNOW
moneyNOW brings users smart, original and entertaining takes on the latest business and investing topics that are buzzing on the web.
MARKET UPDATE
[BRIEFING.COM] The S&P 500 is higher by 0.4%.

April existing home sales hit an annualized rate of 4.97 million units, which was weaker than the rate of 4.98 million units that had been generally expected by the Briefing.com consensus. The pace for April was up from the prior month's revised rate of 4.94 million units. Nasdaq +15.34 at 3517.46... NYSE Adv/Dec 1730/995... Nasdaq Adv/Dec 1292/886.
More Market News