Domino's to deliver in 30 minutes ...or more?
The pizza chain is swearing off its reputation for quick service, hoping customers equate longer preparation time with better quality.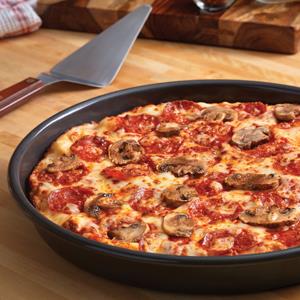 This might be a hard one for pizza lovers to swallow. 

Domino's Pizza (DPZ), which gained fans and built market share with its "30 Minutes or Less" delivery guarantee, is swearing off quick service, according to Advertising Age. Instead, it wants to convince consumers that slower preparation and delivery time means quality.
"Domino's used to be all about speed. Not anymore," says franchisee Robert Gavitt in a new advertising campaign for the chain.
Part of the reason for the new approach is tied to Domino's push into pan pizzas, as it seeks to dethrone Yum Brands' (YUM) Pizza Hut. Domino's, with $6.9 billion in annual sales, trails pie leader Pizza Hut, which has $11.2 billion in sales, according to Pizza Today.
The slowdown might come as a shock to hungry college students and harried families as they count down the minutes until their pizza arrives. But Domino's Chief Marketing Officer Russell Weiner says that its research discovered customers actually associated slower order-to-delivery times with better-tasting pizza, according to the publication. 
"What we recognize is that no matter how much we talk about quality, [some consumers] feel like speed of making pizza does not equal quality," Weiner told Ad Age.
So given the talk about quality pizzas requiring more preparation, one would think that Domino's new pan pizzas would need a good chunk of  time before meeting their customers. But that's not so. 
The pan pizzas only require about one minute longer to cook than regular pies, Weiner told AdAge. 
"This is only a minute, but this is probably the most difficult minute for Domino's," he said of a slower conveyer belt that carries the pan pies. 
As for the "30 Minutes or Less" guarantee, that was actually dropped by Domino's in the 1990s, after the chain was sued by a woman who suffered severe injuries in a 1989 accident caused by a Domino's delivery driver. 
--Aimee Picchi owns shares of Yum Brands but hasn't traded the stock in at least 12 months. Follow her on Twitter at @aimeepicchi.
DATA PROVIDERS
Copyright © 2014 Microsoft. All rights reserved.
Fundamental company data and historical chart data provided by Morningstar Inc. Real-time index quotes and delayed quotes supplied by Morningstar Inc. Quotes delayed by up to 15 minutes, except where indicated otherwise. Fund summary, fund performance and dividend data provided by Morningstar Inc. Analyst recommendations provided by Zacks Investment Research. StockScouter data provided by Verus Analytics. IPO data provided by Hoover's Inc. Index membership data provided by Morningstar Inc.
MARKET UPDATE
[BRIEFING.COM] The S&P 500 trades lower by 0.5% with one hour remaining in the session. The benchmark index is on course to register its third consecutive decline, while widening this week's loss to 1.3%. The Dow and Nasdaq have had a comparable showing with respective week-to-date declines of 1.2% and 1.5%, while the Russell 2000 has been unable to keep up. The small-cap index has given up 0.9% today and is down 2.3% for the week.

Today's session-long weakness has caused ... More
More Market News