Why beef is losing its flavor
Feedlots have begun giving cattle a drug that causes the animal to bulk up on muscle, losing fat in the process.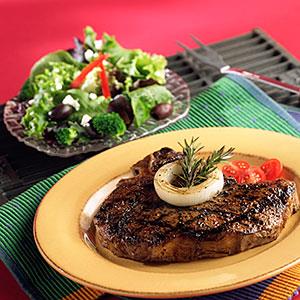 If you think steaks don't taste as flavorful as they used to, you might be on to something.
Feedlots have begun giving cattle a new drug with a curious side effect: It makes steaks less flavorful and juicy, Slate
reports
. But the drug, Zilmax, helps cattle bulk up on muscle in the last few weeks of their lives -- which brings in more money for feedlot owners.
Zilmax was originally created to help people with asthma, Christopher Leonard writes on Slate. But animal researchers found that it makes animals produce more muscle and less fat. That means there are more pounds of beef to sell, but the meat doesn't have that glorious marbling that turns a steak into a masterpiece on the grill.
Zilmax is sold by Merck Animal Health, one of the fastest-growing units of
Merck
(
MRK
). On its
website
, Merck describes Zilmax as "a feed supplement that enables an animal's natural metabolism to more efficiently convert feed energy to lean, healthy, delicious beef."
Four major meat companies control 85% of the market, Leonard writes, and they reportedly all use Zilmax now. They include
Tyson Foods
(
TSN
),
JBS SA
(
JBSAF
),
Cargill
and
National Beef Packing Co.
Cargill reportedly resisted using Zilmax for years, but finally got on board last year when everyone else was doing it.
Last year's drought made it even easier for Merck to sell Zilmax. Farmers were forced to keep herds low, in fact the size of the U.S. cattle herd fell to its smallest since 1952. But Zilmax lets a feedlot owner get more meat from the cow without having to give it any additional food and water. Leonard reported that the drug could add 33 pounds of extra meat to a cow, making the animal about $30 more valuable.
Merck Animal Health says that Zilmax doesn't cause the quality of steaks to suffer, and that people can't tell the difference between beef that has and has not been treated with the drug.
Zilmax usage has really taken off since 2011. If Merck is right, you may have not noticed a thing. But if you've wondered recently why steak suddenly seems more muscular, less fatty and a bit more bland, now you have your answer.
More on moneyNOW
DATA PROVIDERS
Copyright © 2014 Microsoft. All rights reserved.
Fundamental company data and historical chart data provided by Morningstar Inc. Real-time index quotes and delayed quotes supplied by Morningstar Inc. Quotes delayed by up to 15 minutes, except where indicated otherwise. Fund summary, fund performance and dividend data provided by Morningstar Inc. Analyst recommendations provided by Zacks Investment Research. StockScouter data provided by Verus Analytics. IPO data provided by Hoover's Inc. Index membership data provided by Morningstar Inc.
MARKET UPDATE
[BRIEFING.COM] S&P futures vs fair value: +7.20. Nasdaq futures vs fair value: +23.00. The S&P 500 futures trade seven points above fair value.

Asian markets ended the day on a mostly higher note. Japan's weak preliminary Industrial Production report (-3.3% month-over-month versus expected -1.0%) prompted the Ministry of Economy, Trade, and Industry to lower its industrial assessment.

In other data:

South Korea's Industrial Production rose 2.9% ... More
More Market News