Has snowboarding hit an icy patch?
The sport's popularity is declining after decades of growth.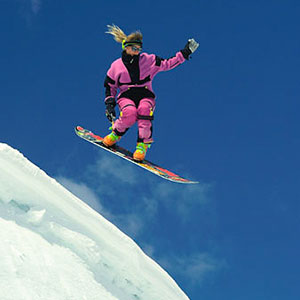 The one-time wunderkind of the snow-sports industry has hit an awkward stage that could spell trouble for its development, according to a recent report. 

The number of snowboarders visiting U.S. ski areas has declined for two years in a row -- and ski resorts are facing an even steeper drop if the industry doesn't make changes, according to a study from RRC Associates that was published in the National Ski Areas Association Journal. 
Despite high-profile snowboard athletes such as Shaun White and popular events such as the Winter X Games, snowboarding is losing ground partly because it's still seen as a mostly male sport, and parents prefer to start their kids learning on skis. 
That's something that may appear obvious to any family who participates in snow sports. In Vermont, where getting out on the snow is obligatory for maintaining sanity during the long winters, most of my kids' friends are skiers -- not snowboarders. A quick bit of math shows me that only about 30% of my kids' friends are snowboarders. 
That jibes with the data in the report, which has found that the percentage of children under 14 who start on snowboards has declined to a new low, dipping to about 34% during the past season. At its peak in the 2003-04 season, 42% of youths started off on a snowboard. 
"Today, there is every indication that the growth in snowboarding we took for granted has stalled and that visitation from snowboarding is headed toward a path of substantial decline," write Nate Fristoe, a director at RRC Associates, in the journal article. 
To be sure, the decline isn't huge -- yet. The percentage of visits from snowboarders to U.S. ski resorts slipped to 30.2%, down from a peak of 32.6% during the 2009-10 winter season. 
But there's also another troubling trend at work: Snowboarders aren't getting out on the slopes the way they used to, the study found. 
Snowboarders on average are only out on the slopes for 6.1 days per season, down from 7.6 days in the 1996-97 season. Skiers, meanwhile, have been holding steady, bumping between 5.4 to 5.7 days during the past 15 years or so. 
Ski areas need to take the decline seriously, Fristoe writes. His recommendations: Address the gender imbalance in the sport, and make it easier for snowboarding parents to introduce their kids to the sport. 
"All businesses and all sports mature, but if ski areas don't steward the maturation of snowboarding more carefully, a significant chunk of business could be lost because of basic complacence," the report notes. 
More on Money Now

With the changes in ski technology recently, skiing is taking back market share from snowboarding.  If you've ever spent time on a mountain, watch the snowboarders...espec​ially around lifts.  They spend more time on their butts...taking off and putting back on their bindings...than they do sliding downhill.  And forget it if you're on a snowboard and you get stuck on the flats...you may as well take your board off and walk, where you can skate on skis.
The only thing I think snowboarding has on skiing is the comfort of their boots.

I used to be an avid snowboarder. I would head up to Mt. Hood at least 10-15 times a year, however it has probably been 8 years since I have been snowboarding. With lift ticket prices anywhere from $60-$75 plus the other money you spend there I just can't do it anymore. Plus I need all new gear which would run me another $1000-$1500 or more. Snowboarding used to be my life, but I just can't afford it anymore. 
Are you sure you want to delete this comment?
DATA PROVIDERS
Copyright © 2014 Microsoft. All rights reserved.
Fundamental company data and historical chart data provided by Morningstar Inc. Real-time index quotes and delayed quotes supplied by Morningstar Inc. Quotes delayed by up to 15 minutes, except where indicated otherwise. Fund summary, fund performance and dividend data provided by Morningstar Inc. Analyst recommendations provided by Zacks Investment Research. StockScouter data provided by Verus Analytics. IPO data provided by Hoover's Inc. Index membership data provided by Morningstar Inc.
MARKET UPDATE
[BRIEFING.COM] The stock market began the new trading week on the defensive note with small-cap stocks pacing the retreat. The Russell 2000 (-1.4%) and Nasdaq Composite (-1.1%) displayed relative weakness, while the S&P 500 lost 0.8% with all ten sectors ending in the red.

Global equities began showing some cracks overnight after China's Finance Minister Lou Jiwei poured cold water on hopes for new stimulus measures. Specifically, Mr. Lou said the government has no plans to change ... More
More Market News