How ski resorts fend off accident lawsuits
A new report says skiers and snowboarders face an uphill battle when it comes to liability issues and safety information.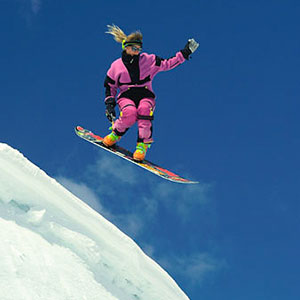 The multibillion-dollar U.S. skiing and snowboarding industry often markets itself with carefree images of people enjoying powdery snow and sunny blue skies. But rarely does it deal publicly with the very unglamorous issues of accidents, injury, liability and insurance.
A new three-part series by the Denver Post has reviewed years of accident reports at Colorado ski resorts, as well as the ensuing lawsuits, and has come out with some interesting data -- information that often applies to ski areas all around the country.
Informally trained resort employees are usually the first on the scene at a skiing or snowboarding accident. That means, in the event of a death or serious injury, the victim's relatives and even law enforcement often have only the resort's version of the accident.

"And when I get the report, I have to ask myself, 'Am I getting what really happened or what (the ski resort) re-created?'" lawyer Scott Larson, told the Post. "By and large, the average ski patroller tries to do the right thing, (but) in my experience, that oftentimes is not reflected in the final investigation after (the ski areas') risk management and lawyers get to it."
State law in Colorado was established decades ago to protect small-scale ski operations from business-ending lawsuits and insurance costs. But it's now being used by the big corporate interests -- companies that own many of the state's 25 resorts -- to narrowly define any claims against them. The Post reviewed 30 years of litigation and found that, along with the state law, waivers written into season ski passes can release the resorts from additional negligence claims while forcing a plaintiff to reimburse the resort for attorney fees and other costs.

And in the lawsuits that do move forward, according to the newspaper, "skiers and snowboarders are limited to a $250,000 cap for non-economic damages" -- and $1 million for economic damages, medical bills and lost earnings.
Researchers at Johns Hopkins say, of the estimated 10 million people who ski or snowboard each year in the U.S., about 600,000 report injuries. But most ski areas aren't required to make information about injuries, or even deaths, public. And as the Post reports, the lack of information can make it "impossible for a concerned consumer to compare the safety records of ski areas -- in Colorado or nationally. It also keeps consumers in the dark about what measure to take to protect themselves."
The California Ski & Snowboard Safety Organization, however, is helping to sponsor a proposed state bill that would require California resorts to prepare an annual safety plan and release death and injury information to the state.

"If resorts are asking you to waive all liability on the back of a ski ticket or in a season pass, they should provide you with information about the risks you are assuming," Dan Gregorie, a medical doctor and founder of the organization, told the Post.


I was ski patroling  for 35 years and wrote probably  1000  accident reports.  I found that if you took lessons your first three times out that your chances of getting injured were almost nil.  I never went to court on any of the accidents.   Skiing  has become safer with the better bindings, shorter skiis and better groomed hills.  Skiing is safe if you use common sense.  john bibler

Let's see now.  You're screaming down a hill that well might have trees and rocks on it, and you can't figure out that there might be some risk and the need for some expertise?  Then you shouldn't be allowed to use a fork.  Is the state liable if you run off a properly maintained road and hit a pole?  Then why should a ski resort be liable?

First, alcohol on the slopes should be monitored to the best of the resort's ability... make buying a drink attached to scanning the pass and don't sell anyone more than 2, other people often cause the worst accidents. My worst skiing accident in 28 years was when some jerk went out of control on a double black and crashed into me 20 feet down the slope (off to the side of course no idiot stands in the center of a slope waiting for their friends)... did a rail slide down my uphill leg, threw me almost 10 feet in the air (I'm a woman and this was a big guy) according to my friends and stripped me of all equipment including poles . And, no getting out of the way was not an option because he was flying all over the place and I had no idea which way he was going to be headed until the last second. 
It's a hazardous sport - even if you are an excellent skier. I've started wearing a helmet because of those idiots. Resorts should rip people off the mtn who are clearly out of control in 'normal' areas or crashing into people... or skiing WAY beyond their level (you can spot a good skier from a bad one immediately). I walked away with bruises but it could have been way worse. 
Are you sure you want to delete this comment?
DATA PROVIDERS
Copyright © 2014 Microsoft. All rights reserved.
Fundamental company data and historical chart data provided by Morningstar Inc. Real-time index quotes and delayed quotes supplied by Morningstar Inc. Quotes delayed by up to 15 minutes, except where indicated otherwise. Fund summary, fund performance and dividend data provided by Morningstar Inc. Analyst recommendations provided by Zacks Investment Research. StockScouter data provided by Verus Analytics. IPO data provided by Hoover's Inc. Index membership data provided by Morningstar Inc.
MARKET UPDATE
[BRIEFING.COM] Nov crude oil is trading higher this morning as the U.S. and Arab allies have begun missile strikes in Syria on the Islamic State. The energy component dipped to a session low of $90.77 moments after equity markets opened but quickly recovered back into positive territory. It popped to a session high of $91.90 in recent action and is now up 0.9% at $91.64.

Oct natural gas is chopping around in a tight range between $3.88 and $3.90 in the black. It is currently up 1.2% at ... More
More Market News