A loose pet in a moving car can be costly
Drivers distracted by their animals are a hazard, but little research exists about accidents and prevention. Now that work is in progress.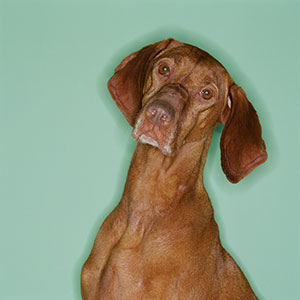 Spring is around the corner, the weather is warming up, and a lot of people are getting ready for a drive with their pets, if only to a local park. But unrestrained animals in a moving car can lead to accidents, as well as costly or even life-threatening injuries to you -- and your dog or cat.

While no accurate figures are available for the number of car accidents caused by pet-distracted drivers, it's fair to assume some significant portion of the thousands of collisions each year can be attributed to distracted driving caused by pets.
Consider these facts: A 2011 AAA survey, conducted in association with a pet travel-products company, found close to 60% of respondents had driven somewhere with their dogs at least once a month in the previous 12 months. Only 16% of those surveyed, however, said they used a pet restraint. And the survey found an alarming number of drivers who acknowledged being distracted by their pets while behind the wheel.
For that matter, nearly 20% admit removing at least one hand from the steering wheel to keep a dog from climbing into the front seat with them, and 23% said they used their hands or arms to hold a dog in place while applying the brakes.
"What people come to realize only too late is that animals act like flying missiles in an impact and can not only hurt themselves but hurt their human family members, too," Col. Frank Rizzo, superintendent of the New Jersey Society for the Prevention of Cruelty to Animals told USA Today last year.
New Jersey is one of at least six states that have pending or existing legislation requiring animals riding in a vehicle to be restrained. And at least one automaker is getting involved in the issue.
Subaru of America, a subsidiary of Fuji Heavy Industries (FUJHF), is working with the nonprofit Center for Pet Safety to fund testing of pet safety restraints for cars.
According to their joint press statement, no performance standards or test protocols for such products currently exist in the U.S. And they noted that while "many manufacturers claim to test their products, without test standards, these claims cannot be substantiated."
The center conducted its own crash-test program last year, using a realistic 55-pound dummy dog in a variety of pet restraints during a simulated 30-mile-per-hour crash. All four of the popular pet harnesses used in the study had a 100% failure rate.
Lindsey Wolko, the center's founder and CEO, says a big pet products market -- of both producers and consumers -- awaits the results of this new restraint testing.
"We have received requests from all over the world from manufacturers who want guidance on developing a safer harness," she said in a press statement, "and, through this partnership, we can finally conduct additional testing to help develop a suitable standard, provide the needed knowledge-base to manufacturers, as well as determine the top performers."

Maybe the gov can fund this study about the correlation between unrestrained pets and car accidents.  Then they can combine it with that other study about why most lesbians are fat.  Only then, perhaps, will we ever know why fat lesbians tend to favor dogs over cats, and pickups over sport-coupes.


did you ever notice a school bus driver is wearing a seat belt but 40 kids arent and they're worried about a dog? I think they need to install seat belts in school buses and if you're not smart enough to figure out a way to restrain you're pet in a vehicle then you should just take it for a nice walk close to the house and stay safe!!!

Brutus and Fatty Cakes....You guys are too funny today...I had to do that thumbs up thing for both of you....har,har,har..​.
I used to take three(3) dogs with me in the truck(SUV) never in Miss Lilly's car usually.
Little one always sat in the front seat and hardly ever moved...Big ones in back.
Always had windows down "part way", so they couldn't bail. even in the Winter.
One fight in the back that I had to break up...Think it was over a window positioning thing.??
Nothing serious..Worst part is when they would see a rabbit or a squirrel...All hell broke loose.
We even had one dog that would ride on top of a load of hay, coming back from the fields.
Use to freak neighbors out...Dog loved it.
Some dogs will ride in back of Pickup...Others need to be tied short, so they can't bail.
One wreck, slid off icey road into a deep ditch, wife's car...2 dogs with me, they didn't like it..
Me and the dogs got out, but they had been thrown around in car. Little damage.
Passers-by helped pull out car with tow straps...Dogs running around, but wouldn't get back in car to leave...I had to catch,drag and throw them back in, to go home. 
CATS should ALWAYS be in a Cage..
Are you sure you want to delete this comment?
DATA PROVIDERS
Copyright © 2014 Microsoft. All rights reserved.
Fundamental company data and historical chart data provided by Morningstar Inc. Real-time index quotes and delayed quotes supplied by Morningstar Inc. Quotes delayed by up to 15 minutes, except where indicated otherwise. Fund summary, fund performance and dividend data provided by Morningstar Inc. Analyst recommendations provided by Zacks Investment Research. StockScouter data provided by Verus Analytics. IPO data provided by Hoover's Inc. Index membership data provided by Morningstar Inc.
MARKET UPDATE
[BRIEFING.COM]
Dec gold chopped around near the unchanged level for most of today's pit trade as investors awaited the FOMC policy statement released at 14:00 ET. The yellow metal touched a session high of $1240.10 per ounce in early morning action but later dipped to a session low of $1234.50 per ounce and settled 60 cents below the break-even line at $1235.60 per ounce.
Dec silver erased slight early morning losses as it lifted from its session low of $18.64 per ounce. It ... More
More Market News