Lost luggage hits a new low
Better tracking devices and procedures are helping bags get delivered, but critics say the success rate is also due to people simply checking fewer items.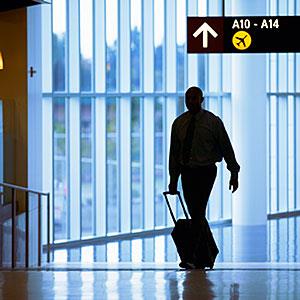 After a long flight, few things are more infuriating than discovering your checked-in suitcase has gone elsewhere or, even worse, is missing in action.

But thankfully, it appears fewer airline passengers are going through that annoyance. The Department of Transportation's latest Air Travel Consumer Report says U.S. carriers posted a mishandled baggage rate of 2.64 per 1,000 passengers in November -- down from a rate of 2.66 in 2011.

And that's the lowest November rate on record for lost or mishandled luggage, according to the Los Angeles Times.

The air transport communications group SITA notes the overall rate of mishandled airline baggage has been cut in half over the past five years, a figure that helps both passengers and airline industry earnings.
SITA's eighth annual Baggage Report says 99.1% of checked bags in 2011 were delivered on time to passengers. That's the highest rate of successful luggage delivery in the report's history and a savings of $650 million to the air transport industry compared with 2010.

"These results are due to concerted efforts by airlines, airports and ground handlers who have leveraged the IATA [International Air Transport Association] Baggage Improvement Program," said SITA CEO Francesco Violante, "the increased focus on standards and best practices by the Airports Council International; and the implementation of sophisticated baggage management solutions."
More airlines have been using bar code, electronic monitoring and other tracking technologies over the past several years -- giving them a better handle on just where your luggage is at any given time during a trip.

Katie Connell, a spokeswoman for the trade group Airlines for America, tells the L.A. Times that improved airline operations -- changes that have led to less flight congestion and more time between connecting flights -- "have been contributing factors as well" to the lower rate of lost or missing bags.

But critics say the numbers are misleading, that fewer bags are being lost because fewer bags are being checked due to higher baggage fees. Freakonomics writer Sanjoy Mahajan says U.S. airlines collected $3.4 billion in baggage fees in 2011, or about half of the industry's 2011 profits of $7 billion.
At the same time, SITA notes the airline industry still has an "Achilles heel" when it comes to lost or mishandled baggage; and that's luggage transferred from one aircraft to another, and often from one air carrier to another, on its way to the final destination.
That transferred luggage reportedly accounted for 53% of all delayed bags in 2011, and costs the industry at least $1.36 billion a year.

"This comes at a time when transfer traffic is growing, with more routes being rationalized into hub-and-spoke operations," says the SITA report. "Increasing traffic clearly places greater stress on bag handling operations. And if the trends continue, by 2020 transfer bags will account for more than 60% of all delayed bags unless tackled by the industry."
More on Money Now

Are you sure you want to delete this comment?
DATA PROVIDERS
Copyright © 2014 Microsoft. All rights reserved.
Fundamental company data and historical chart data provided by Morningstar Inc. Real-time index quotes and delayed quotes supplied by Morningstar Inc. Quotes delayed by up to 15 minutes, except where indicated otherwise. Fund summary, fund performance and dividend data provided by Morningstar Inc. Analyst recommendations provided by Zacks Investment Research. StockScouter data provided by Verus Analytics. IPO data provided by Hoover's Inc. Index membership data provided by Morningstar Inc.
MARKET UPDATE
[BRIEFING.COM] S&P futures vs fair value: -6.30. Nasdaq futures vs fair value: -14.80. U.S. equity futures trade hover near their pre-market lows amid cautious action overseas. The S&P 500 futures hover six points below fair value, which puts the benchmark index on track to continue its retreat after losing 0.8% yesterday.

Overnight, markets in Asia traded in mixed fashion, but sentiment worsened after the start of the European session, where all the key indices hold losses ... More
More Market News