Cut corporate taxes? First figure out what they are
It's pretty clear that US businesses are socked more than their global peers, but just how much they actually pay is quite murky.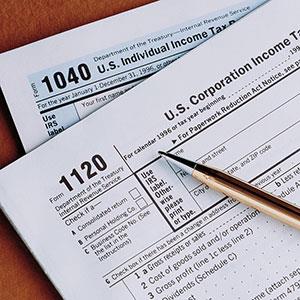 Democrats and Republicans, who agree on very little anymore, are united in their belief that the top rate for U.S. business taxes needs to come down. Whether this will spur efforts to reform the tax code as Congress debates President Obama's proposed $3.7 trillion federal budget remains to be seen.
U.S. corporations pay a marginal tax rate of 35%, the highest in the world, and that puts the country at a competitive disadvantage, according to the
U.S. Chamber of Commerce
and others. Obama advocates slashing it to 28%.
The big problem with the marginal tax rate figure is that it can be misleading. As Fortune's
Allan Sloan
recently noted, the stated rate "has more holes than Swiss cheese," thanks to a plethora of loopholes.
A
2011 report
by the Citizens for Tax Justice and the Institute on Taxation and Economic Policy found that the average effective corporate tax rate -- the tax that was actually paid -- for the 280 companies it studied was 17.3%. According to the Chamber of Commerce, that effective rate is one of the highest in the world and averages 7.6 percentage points above that of global competitors.
This raises the question of how much companies actually pay in taxes. According to Sloan, a veteran business journalist, the answer isn't as clear-cut as it ought to be. He urges readers to be skeptical of reports of companies that pay low taxes because these stories are based on the so-called current portion of taxes due.
Though some people use that figure as a proxy for federal taxes, it's calculated for the purposes of earnings and has "no connection whatsoever with what a company actually forks over to the IRS for a given year," writes Sloan. The "taxes paid" figure is no help either because it lumps local, state and federal taxes together.
At the request of Sloan and Bloomberg View, the Financial Accounting Foundation (FAF), an independent organization tasked with improving financial accounting and reporting standards, is undertaking a review of the rules companies have to follow for disclosing the taxes they pay. Such a standard seems to be a simple solution to the problem.
Until then, investors should view attempts at reforming the tax code with skepticism unless it's clear what is being "reformed."
Follow Jonathan Berr on Twitter @jdberr.

I will tell you the progressivies will be foaming at the thought of this!  As the socialist progressive democrats are starting to realize what the republicans have been telling them, the facts have shown in the past that decreased taxes means increase jobs, income for business, foreign trade and taxes to the government !
   The takers will be yelling unfair, unfair why can they make money while I only get my rent paid, my food paid for, my utilities paid for and a limited phone.
    Obama screwed all the contributors for the last 5 years to get elected, mabey now he will screw the takers , the low information voters that he promised so much but can not deliver. Obama is learning that is he has to change his socialistic ways , so he can keep the system from crashing!
   It will be very hard for him to change enough to not be the WORST president in history (including jimmy carter) but unless he wants a legacy of other than gay marriage and increased taxes on the rich , a failed heath care system that is already costing more and is not even fully implemented yet. And a poverty rate with double those on government dependence than any other president . Then he better start listening to those who care about freedom, jobs and freedom of government interference!!
Are you sure you want to delete this comment?
DATA PROVIDERS
Copyright © 2014 Microsoft. All rights reserved.
Fundamental company data and historical chart data provided by Morningstar Inc. Real-time index quotes and delayed quotes supplied by Morningstar Inc. Quotes delayed by up to 15 minutes, except where indicated otherwise. Fund summary, fund performance and dividend data provided by Morningstar Inc. Analyst recommendations provided by Zacks Investment Research. StockScouter data provided by Verus Analytics. IPO data provided by Hoover's Inc. Index membership data provided by Morningstar Inc.
MARKET UPDATE
[BRIEFING.COM] The stock market finished the Tuesday session on the defensive after spending the entire day in a steady retreat. The S&P 500 (-0.6%) posted its third consecutive decline, while the small-cap Russell 2000 (-0.9%) slipped behind the broader market during afternoon action.

Equity indices were pressured from the start following some overnight developments that weighed on sentiment. The market tried to overcome the early weakness, but could not stage a sustained rebound, ... More
More Market News