America runs on . . . glazed doughnut sandwiches?
What began as a promotional item will soon be a permanent fixture at Dunkin' Donuts as the fast-food trend toward menu mash-ups continues.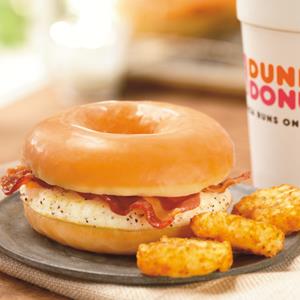 Can we have some real talk, American eaters? Let's just put it out there: You love fast food, and you're eating a lot of it.
Get as self-righteous as you'd like about how bad it is for you. Tell us again how many times you've read "Fast Food Nation" and watched "Super Size Me." You're still visiting fast-food joints more than you visit any other retail establishment, and we know you're not ordering a McSalad.
If you still want to live in denial, that's fine. Dunkin' Donuts (DNKN) has no problem outing you by making its Glazed Donut Breakfast Sandwich -- fried eggs and bacon between a split glazed doughnut -- part of its permanent nationwide menu.
In a country where a doughnut-encased cheeseburger supposedly created by R&B singer Luther Vandross gets not only its own Wikipedia entry but also its own episode of Cartoon Network's "The Boondocks," a doughnut sandwich really isn't much of a gimmick anymore. But for such a concoction to make the leap from a limited-time novelty to an accepted, everyday staple of a restaurant's offerings requires a shift in fast-food ideology that changes the culture.
While customers say it's the fresh ingredients at Wendy's (WEN), Five Guys, In-N-Out Burger and fast-casual joints like Panera Bread (PNRA) and Chipotle (CMG) that are fueling their impatient hunger these days, Yum Brands' (YUM) success with Taco Bell's Doritos Locos Tacos mash-up with PepsiCo (PEP) says otherwise. The Doritos-encased tacos are not only boosting Taco Bell sales and saving the brand, they're also forcing competitors to cater to the low-end market's insatiable appetite -- as Del Taco did with its Chili Cheese Fry Burrito and Burger King (BKW) has with its upcoming McRib clone.

Even McDonald's has backed off premium and supposedly healthier items like Chicken Selects and Angus Burgers and has hinted at offering an all-day breakfast menu. Though McDonald's is slimming down its 145-item menu, it's not beyond pulling out the big guns and offering a three-quarter-pound,​ 1,142-calorie order of fries, as it did recently in Japan.
In Dunkin' Donuts' case, the doughnut sandwich that was originally released as a promotional item in April is actually a caloric improvement over some of its more common breakfast offerings. While the Glazed Donut Breakfast Sandwich is still a stout 360 calories, it's relatively lean compared with the 390-calorie turkey sausage sandwich that the company considers a healthy alternative.

If fast-food companies are no longer pretending that customers come to them for nutritional value, why should customers be ashamed of their occasional temptations?
DATA PROVIDERS
Copyright © 2014 Microsoft. All rights reserved.
Fundamental company data and historical chart data provided by Morningstar Inc. Real-time index quotes and delayed quotes supplied by Morningstar Inc. Quotes delayed by up to 15 minutes, except where indicated otherwise. Fund summary, fund performance and dividend data provided by Morningstar Inc. Analyst recommendations provided by Zacks Investment Research. StockScouter data provided by Verus Analytics. IPO data provided by Hoover's Inc. Index membership data provided by Morningstar Inc.
MARKET UPDATE
[BRIEFING.COM] The major averages ended the midweek session with slim gains after showing some intraday volatility in reaction to the release of the latest policy directive from the Federal Open Market Committee. The S&P 500 added 0.1%, while the relative strength among small caps sent the Russell 2000 higher by 0.3%.

Equities spent the first half of the session near their flat lines as participants stuck to the sidelines ahead of the FOMC statement, which conveyed no changes to the ... More
More Market News