Looking for tech's future? Watch teenagers
About 25% of them prefer smartphones over wired means to use the Internet, which could mean big changes ahead for the industry.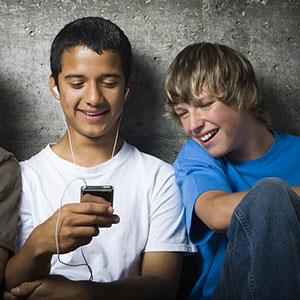 Sometimes it seems like the competition between the major tech companies is a war of attrition, unfolding along many fronts. But as they battle over current market share, are they paying enough attention to the next generation of consumers?
Take the growing e-reader/tablet market. Amazon.com (AMZN) recently announced it's dropping the price of its Kindle Fire HD tablets by up to 20%. A company spokeswoman told The Wall Street Journal that lower production costs, especially because of the device's availability in Europe and Japan, allows Amazon to pass those savings on to its customers.
As altruistic as that sounds, Amazon's price cut also targets Apple's (AAPL) iPad. And both Apple and Amazon are losing ground to other competitors like Samsung Electronics (SSNLF), which last night unveiled its Galaxy S 4 -- aimed directly at Apple's iPhone.
While the e-reader slugfest plays out, a survey done last year by R.R. Bowker suggests many teens still remain on the sidelines when it comes to purchasing e-books. However, digital sales of young adult fiction have reportedly been soaring -- as more teens access the latest vampire/werewolf romance saga online.
But don't smirk too much: These teens are the vanguard of digital changes that affect us all. The Pew Research Center says 95% of U.S. teens have online access and 78% now have a cellphone –- with nearly half of them being smartphones.
Given the growing "fluency" of the current crop of teenagers, who were born and raised with the Internet and social media, that's seems logical. But here's something relatively startling: About 25% of teens accessing the Internet do so via their smartphones rather than through desktop or laptop computers.
"The nature of teens' internet use has transformed dramatically -- from stationary connections tied to shared desktops in the home to always-on connections that move with them throughout the day," Mary Madden, senior researcher for the Pew Research Center's Internet Project and the report's co-author, said on the Pew website.
"In many ways, teens represent the leading edge of mobile connectivity," she notes, "and the patterns of their technology use often signal future changes in the adult population."
So, the next time you find yourself clucking at teenagers with their faces glued to their smartphones, remember they were born in the Internet Age -- and the rest of us are just immigrants learning the language.

The smartphone is a good way for me to check email or have a quick glance at local tv station breaking news and weather using their apps. It is not a good option for me to use for research or reading lengthy new stories. Forget doing photo or videos edits or running Word or Excel. Mobile versions of web browsers are clunky at best and I prefer the 22" flat panel of a desktop for doing those.
If all you want to do is check Facebook or see what some dumb*ss is doing on You Tube, then I guess the phone option would be fine.

Wireless Technology in the near future will have to change. The SUN's solar flares, deterioration of earths protective atmosphere, Air Pollution, Earth's weather patterns (storms and high winds), more chances of space particals / debre knocking out satellites, meteorite storms near earth, etc. There will be large disturbances of the air ways/ interference that we will go back to Land Lines.
 When the World Governments go to War, it only takes a few Grumman EA-6B aircraft equipped with there Jammers (Electronic Counter Measures)  to kill all Signals / Transmissions of data via air.
 Not only the proposed Star War Defensive strategy will be destructive in nature, it's People unlike you and me that you will have to worry about.  Think about  REVOLUTION (TV Series 2012 ) .quote"..Our entire way of life depends on electricity. So what would happen if it just stopped working? Well, one day, like a switch turned off, the world is suddenly thrust "....
Uhm .... Science Fisction becoming REALITY.
Of course teens use the most expensive way to access the net--they aren't paying for it, their parents are. When these teens grow up and have to start paying themselves, most of them will make real choices about what to do with their money. $100+ per month wireless plans won't be at the top of their list, I don't think. Many will just go to the library, and for this you don't need a smartphone, a laptop is fine. In fact, no laptop is fine too--just borrow one of the library's computers. The point is that these things are not "needs", they're optional, and you should pay attention to that when investing.
I don't think so. We are already seeing the flaw in this header statement with Apple. Handheld devices are nice, but when you're working three jobs and your teenager tells you to "f-off" from the couch after you interrupted their mindcraft game... you don't buy them anything else. When they complain, you walk away and stop buying them fast junk food and start blackmailing them into doing chores that you can't because you're exhausted. Twenty-somethings? Anybody have one? Clean? Nope. The world is pretty much done with distractions and is seeking productive recovery. Nobody needs an i-Phone 6 or to watch a movie while driving a car. Look for plenty of push-back this summer, which will send these stocks into the toilet.
Are you sure you want to delete this comment?
DATA PROVIDERS
Copyright © 2014 Microsoft. All rights reserved.
Fundamental company data and historical chart data provided by Morningstar Inc. Real-time index quotes and delayed quotes supplied by Morningstar Inc. Quotes delayed by up to 15 minutes, except where indicated otherwise. Fund summary, fund performance and dividend data provided by Morningstar Inc. Analyst recommendations provided by Zacks Investment Research. StockScouter data provided by Verus Analytics. IPO data provided by Hoover's Inc. Index membership data provided by Morningstar Inc.
MARKET UPDATE
[BRIEFING.COM] The stock market finished an upbeat week on a mixed note. The S&P 500 shed less than a point, ending the week higher by 1.3%, while the Dow Jones Industrial Average (+0.1%) cemented a 1.7% advance for the week. High-beta names underperformed, which weighed on the Nasdaq Composite (-0.3%) and the Russell 2000 (-1.3%).

Equity indices displayed strength in the early going with the S&P 500 tagging the 2,019 level during the opening 30 minutes of the action. However, ... More
More Market News