What the government wants to take away now
After failing to ban large sodas, New York City Mayor Michael Bloomberg wants to require convenience stores to hide cigarettes.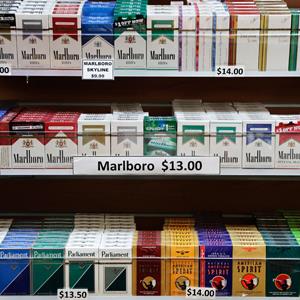 Fresh off the courtroom defeat of his
controversial ban
on large sodas, New York City Mayor Michael Bloomberg is now taking the fight to an older, more battered convenience store enemy: cigarettes.
According to Reuters, Bloomberg on Monday proposed a law requiring that cigarettes be hidden from view in stores.

The two bills he plans to present to the City Council Wednesday would require clerks to keep cigarettes in a drawer, behind a curtain or in some other concealed location. As it is, New York law allows only the clerk access to cigarettes, which are kept stacked either above or behind the counter.
Bloomberg, a former smoker, also wants to stop stores from taking cigarette coupons and honoring discounts. He's also and are proposing a minimum price for cigarettes that falls under the city average and would discourage black market sales. Cigarette companies are vehemently opposed to the law, which they consider an overreach, but Bloomberg's prior dealings with soda companies, restaurants, cab companies and other businesses targeted by his restrictions indicate he likely isn't listening.
Thanks to cigarette taxes that are among the highest in the country, New York City smokers pay upwards of $13 per pack. Bloomberg's proposed minimum price would knock that cost down to $10.50, but the ban on public displays of cigarettes would be the first of its kind in the U.S. and the first outside of Iceland, Canada, Ireland and England. Stores that make more than half their revenue from tobacco products would be exempt from the display ban, but only because customers under the legal New York cigarette buying age of 18 are banned from those stores without a parent.
Unlike Bloomberg's failed soda ban, his previous battles against cigarettes have continually yielded results. After banning smoking in office buildings, bars, restaurants, parks and beaches, Bloomberg dropped the number of New Yorkers who smoke from 21.5% in 2002 to just 14.8% percent in 2011, according to the city's health department. Meanwhile, Altria (MO), Reynolds American (RAI) and smaller tobacco companies that are already packing their products with kitty litter ingredients just to avoid excise taxes are having somewhat mixed emotions about the new ban.
While smokers-rights groups say the mayor is overstepping his bounds, companies have remained mum about the cigarettes being smuggled into New York from other states without tax stamps. Over the last 18 months, inspectors visiting 1,800 cigarette retailers found 46% were selling untaxed or unstamped tobacco products, city officials said. That costs the city roughly $30 million a year, which it seems more than happy to take back by eliminating manufacturers' discounts.
DATA PROVIDERS
Copyright © 2014 Microsoft. All rights reserved.
Fundamental company data and historical chart data provided by Morningstar Inc. Real-time index quotes and delayed quotes supplied by Morningstar Inc. Quotes delayed by up to 15 minutes, except where indicated otherwise. Fund summary, fund performance and dividend data provided by Morningstar Inc. Analyst recommendations provided by Zacks Investment Research. StockScouter data provided by Verus Analytics. IPO data provided by Hoover's Inc. Index membership data provided by Morningstar Inc.
MARKET UPDATE
[BRIEFING.COM] S&P futures vs fair value: -8.00. Nasdaq futures vs fair value: -19.00. Nasdaq at... NYSE Adv/Dec 0/0... Nasdaq Adv/Dec 0/0.
More Market News