Please, film your show in my state!
New Mexico may pass a tax-credit law to lure more productions like 'Breaking Bad,' and it wouldn't be the first. Do these schemes really work?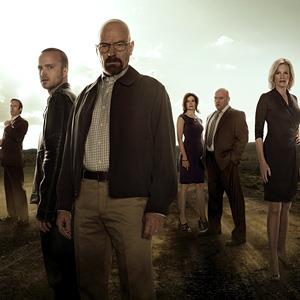 Fans of the
AMC
(
AMCX
) series "Breaking Bad" appear to be working their way through the five stages of grief on the blogosphere, as TV's methamphetamine melodrama prepares for its fifth and final season. But among the fans who will apparently miss the program most are lawmakers in New Mexico, where the series is filmed.
The state's House recently passed a measure known as the "Breaking Bad" bill, which would increase tax incentives for TV and movie companies that film in New Mexico.
According to the Los Angeles Times, the bill would require TV productions to film at least six episodes in New Mexico, make a good faith effort to hire New Mexicans on those productions and contribute to local job training programs in order to receive a 30% tax rebate.
"Thanks to this bill, more series will be shot in New Mexico," Antonio Maestas, the state's House Majority Whip, told KOAT-TV.
According to The Taos News, four network TV series are currently shooting in New Mexico or planning to begin production.
The L.A. Times says the "Breaking Bad" bill is meant to help New Mexico remain competitive with other states like New York, Georgia and Louisiana -- all of which already offer TV and film producers a 30% tax credit.
And there are signs these incentives can help bring millions of dollars of revenue into TV and film production-friendly states.
Earlier this month, New York Governor Andrew Cuomo announced 34 productions have applied to work in New York since last summer. That's when he signed into law a bill that boosts TV and film post-production tax credits to 30% in the New York City region and up to 35% for post-production work done in Upstate New York. A press release from Governor Cuomo's office estimates this work will generate $23 million in new spending in New York.
While many lawmakers appear to love bringing Hollywood into their backyards, some experts doubt whether the tax credits really help local businesses in the long run.
"I think states are realizing that they are not worth the cost," Cara Griffith, legal editor of State Tax Notes, recently told NBC News.com. "The reality is that most states have not seen a corresponding increase in jobs created or dollars of revenue brought into the state."

The question in the title of the article was "Do these schemes work?", yet the article makes no attempt to provide an answer. Where is the analysis of the tax break cost vs. the generated revenue? You quote Cara Griffith as saying that the schemes are "not worth the cost" - why is this? What are her reasons for saying this?

The article was lacking any substances and very disappointing.




.
While I heard a lot about this in the last week, most of the attention focuses on creating jobs.  While I no expert I would not think that this would create a lot of local jobs, I mean, how many movie stars live in towns where movies are shot, how many camera operators live in those towns, you get my drift.  I think that a lot of extras and low level temporary jobs are created, but that doesn't seem to be where the money or focus should be for a 3-6 month film shoot.  I think most are missing the point; the money comes from the production company buying fuel for vehicles, renting cars, meals, hotel rooms, and other types of services.  It is my opinion that if the tax breaks where not given, the area would miss out on these types of increased revenue.  The question should really be, do these added revenues that turn into taxes generated at least offset the tax breaks given, but no one on TV or in this article has shown any numbers.  Until there is financial analysis made public, who really knows.  It's all opinion and speculation, it's just math, I wouldn't think it would be that hard to prove or disprove these tax breaks are worth it.
Are you sure you want to delete this comment?
DATA PROVIDERS
Copyright © 2014 Microsoft. All rights reserved.
Fundamental company data and historical chart data provided by Morningstar Inc. Real-time index quotes and delayed quotes supplied by Morningstar Inc. Quotes delayed by up to 15 minutes, except where indicated otherwise. Fund summary, fund performance and dividend data provided by Morningstar Inc. Analyst recommendations provided by Zacks Investment Research. StockScouter data provided by Verus Analytics. IPO data provided by Hoover's Inc. Index membership data provided by Morningstar Inc.
MARKET UPDATE
[BRIEFING.COM] S&P futures vs fair value: -6.60. Nasdaq futures vs fair value: -14.50. The S&P 500 futures trade seven points below fair value.

Markets across most of Asia ended on a lower note, while Japan's Nikkei was closed for Autumn Equinox.

Economic data was limited:

China's HSBC Manufacturing PMI ticked up to 50.5 from 50.2 (expected 50.0)
Singapore's CPI eased to 0.9% year-over-year (expected 1.2%; previous ... More
More Market News