Red Lobster and Olive Garden are starving
Darden Restaurants kills its chains' all-you-can-eat identities and crushes sales just as Americans abandon casual dining.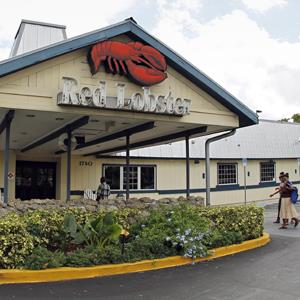 Updated Wednesday 3:30 p.m. ET
If you still think about all-you-can-eat shrimp when you think of Red Lobster or never-ending breadsticks or pasta bowls when someone mentions Olive Garden, then you're part of the problem for Darden Restaurants (DRI).
The parent company of those two restaurant chains -- as well as the meaty LongHorn Steakhouse and beer-focused YardHouse -- issued a warning about its second-quarter profits as sales over the last three months tanked. The company blamed Superstorm Sandy and a spate of bad meal promotions for a 0.8% sales slump at LongHorn, a 2.7% dip at Red Lobster and a 3.2% downturn at Olive Garden.
The eating public's indifference to Olive Garden and Red Lobster fare is particularly disconcerting for Darden, which just overhauled menus and restaurants at both chains. Red Lobster, known for bottomless piles of bottom-feeding seafood, increased chicken and beef items from 8% of the menu to nearly a quarter of its offerings. Olive Garden, meanwhile, shifted the focus away from unlimited carbohydrates like breadsticks and pasta to "lighter" fare with fewer than 600 calories. It's laid-back "When You're Here, You're Family" slogan was replaced with the more hectic "Go Olive Garden."
Wednesday, Darden said it won't bump any workers from full-time to part-time to deal with rising costs as Obamacare is implemented. Starting in 2014, large companies must offer health insurance to full-time workers, and as a result Darden was testing the use of more part-time employees. The company was criticized for the move, and said that employee and customer satisfaction declined at restaurants where the tests took place, the Associated Press reports.
While Darden made passing mention of the national health care law and its potential effects on the company's bottom line, it made clear that sales were its biggest issue. Total sales are expected to grow 7.5% to 8.5% overall, down from previous projections of 9% to 10%. Same-store sales for Red Lobster, Olive Garden and LongHorn -- originally predicted to grow 1% to 2% this year -- will likely be negative or flat, Darden said.
How is this happening? Didn't the Conference Board's Consumer Confidence Index rise to 73.7 in November, up from 73.1 in October and at its highest level since February 2008? Didn't the University of Michigan/Thompson Reuters consumer sentiment index rise from 82.6 in October to 82.7 in November and reach a five-year high? Aren't consumers looking to spend?
Maybe on houses and small store items, but not on dinners out at a mid-range chain restaurant with tchotchkes on the wall. According to the Census Bureau, spending at food service and drinking establishments is up 7.2% during the first 10 months of the year over the same period in 2011 and up 4.2% in October from October 2012. Restaurant spending decreased 0.4% between September and October and, according to market research firm NPD Group, dropped off 2% at casual-dining establishments within the last quarter. Casual dining on the whole has dropped between 1% and 4% each quarter since spring of 2010.
Meanwhile, the cost of dining out isn't getting cheaper. It's up 2.7% over the last year, according to the Consumer Price Index, which puts it ahead of the 2.2% overall rate of inflation. Darden's prices at both the Olive Garden and LongHorn rose between 2% and 2.2% last quarter, while Red Lobster managed to keep price hikes down to a manageable 1.4%.
If it's any consolation to Darden, its competitors haven't quite figured out the restaurant market this year either and have watched sales either flatten or make modest gains. Share prices at Chili's parent company Brinker Restaurants (EAT) are up 22.6% in the last year and sales are up 2.7%. DineEquity (DIN), the firm that runs Applebee's and IHOP and is viewed as a huge Darden competitor thanks to its "2 for $20" meal deal at Applebee's, saw stock values rise nearly 35% in the same span thanks to 2.3% same-restaurant sales increase at Applebee's, but in spite of a 2.4% decline at IHOP.

Ruby Tuesday (RT), meanwhile, watched shares jump climb more than 7% and sales increase nearly 2% after overhauling its menu and locations. Bloomin Brands (BLMN) -- named after the fried onion appetizer at its flagship Outback Steakhouse chain -- increased sales at Outback, Carraba's Italian, Bonefish Grill and Flemings Steakhouse 3.6% last quarter. Share prices have increased nearly 30% since the stock debuted in August.
The somewhat less family oriented Buffalo Wild Wings (BWLD) has been an exception, with its focus on football, beer, big TVs, near bottomless supplies of poultry parts increasing sales by an average of 6% last quarter. Its share price is up more than 15.5% over the last year.
Absent chicken and concussions, there doesn't seem to be any magic formula for getting folks in the door. After watching sales inch up a scant 1.1% during the first nine months of the year as foot traffic decreased 1.8% despite Denny's (DENN) adding three restaurants to its total count over that span, the diner-style chain will be pushing a hearty menu tied into "The Hobbit" film trilogy, whose first installment debuts this month.
That kind of goes the other way on Darden's health-and-image-con​scious reinvention, but at least places like Denny's and Buffalo Wild Wings know their audience. Olive Garden and Red Lobster are running away from their all-you-can-eat, sit-down identities just as Americans flee faceless casual dining chains.

There may have been something slightly repulsive about orgies of shrimp and spaghetti, but at least they helped separate Red Lobster and The Olive Garden from every other fatty pre-fab chain lining the nation's traffic arteries.
More from Money Now
DATA PROVIDERS
Copyright © 2014 Microsoft. All rights reserved.
Fundamental company data and historical chart data provided by Morningstar Inc. Real-time index quotes and delayed quotes supplied by Morningstar Inc. Quotes delayed by up to 15 minutes, except where indicated otherwise. Fund summary, fund performance and dividend data provided by Morningstar Inc. Analyst recommendations provided by Zacks Investment Research. StockScouter data provided by Verus Analytics. IPO data provided by Hoover's Inc. Index membership data provided by Morningstar Inc.
MARKET UPDATE
[BRIEFING.COM] The stock market began the new trading week on the defensive note with small-cap stocks pacing the retreat. The Russell 2000 (-1.4%) and Nasdaq Composite (-1.1%) displayed relative weakness, while the S&P 500 lost 0.8% with all ten sectors ending in the red.

Global equities began showing some cracks overnight after China's Finance Minister Lou Jiwei poured cold water on hopes for new stimulus measures. Specifically, Mr. Lou said the government has no plans to change ... More
More Market News