Office Depot, OfficeMax talk merger
Both chains have struggled against Costco and Amazon since the 2008 market crash, and they might announce a deal this week. Two probable results are closed stores and job losses.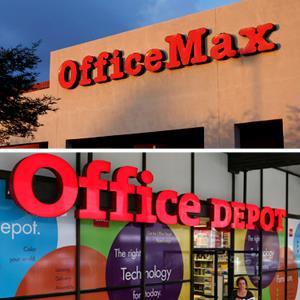 The big-box office supply business may be about to get smaller.
The Wall Street Journal reported Monday that
OfficeMax
(
OMX
) and
Office Depot
(
ODP
) are discussing a merger that may be announced later this week.
The deal would probably be a stock swap, but, the Journal said, the terms weren't clear. Odds are that costs would be cut sharply, with payrolls trimmed and a number of stores closed.
Investors and analysts have been talking for some time about how a merger of the two companies might be a natural, if only because the shares of both have been so badly damaged in recent years.
Office Depot shares lost nearly 98% of their value between May 2006 and the market bottom in 2009.OfficeMax shares lost 96% of their value between February 2007 and the 2009 bottom. OfficeMax shares closed at $10.75 on Friday, up 40% this year; OfficeMax closed at $4.59. The shares are up 10.1% this year.
Their market capitalizations of the companies are a combined $2.2 billion, $1.3 billion for Office Depot and $900 million for OfficeMax. In 2006, the market caps totaled $13 billion, according to
Wikinvest.com
.
Both companies have struggled against industry leader
Staples
(
SPLS
), and all three have struggled against competition from
Costco Wholesale
(
COST
),
Wal-Mart Stores
(
WMT
),
Target
(
TGT
) and
Amazon.com
(
AMZN
).
In addition, Office Depot has been under pressure from activist investor Starboard Value, its biggest shareholder, to boost returns. Starboard, which has a 14.8% stake in Office Depot, has called for a deal with OfficeMax.
The office supply chains are casualties of the digital age, The Journal noted. There are "too many stores carrying too much inventory in spaces that are too large for the new marketplace."
Office Depot has some 1,600 stores and 39,000 employees; OfficeMax has 900 stores and 29,000 employees. Staples has around 2,000 stores but has committed to close some 46 locations, mostly in Europe, and end its European special delivery business.
The trio have danced around each other for years. Staples and Office Depot, in fact, negotiated a merger that the Justice Department blocked in 1997.
OfficeMax shares are up 94% over the last year thanks in part to speculation about a deal. Office Depot shares are up 50.5% over the last year. 
Staples shares are down 15.9% in the last year. Bain Capital, a company founded by former Republican presidential candidate Mitt Romney, helped get Staples started in 1986.
More on moneyNOW

They are both over priced on their items.  The cost of copy paper is almost out of reach.  Both have their own brand of ink but they are not always workable on your name brand copier.  They are almost the price of the brand name.   They are going to out price the same paper and ink you buy thru HP co. it self.  I mean come on $15.00 off a $100.00 purchase.  They can do better than that.
I think there are better ways to manage this. Staples online blows away CostCo and patronizing Amazon for this stuff slips you into the Wal-Mart Effect. Much smaller storefronts with local expertise and a centralized warehouse that drop-ships common items might be a better model. A reminder that the merger will eliminate jobs. Bernanke printed up way too much fiat (fake) money and that keeps us from recovering. Corporate America mass terminated it's own customer base. That not only hurts us but sends us deeper into the Abyss. More jobs, less corporate control, indexed to worked hours cash actually flowing and reining in the stupidity of technology as a Weapon of Mass Destruction are all in order.

It's about time...! Shrinking Demand ..Since Obumers economy is soooooo good...! WHERE ARE THE JOBS.....!!!  Retail is about to crash.....Get ready for the COLLAPSE....!!! I figure by MID 2014.....! The baby boomers are retiring by the MILLIONS ...3.8 MILLION this year and a total of 50 Million by the end of 2021 and 70 MILLION bt 2030 drawing down on the Pension Plans that are all underfunded by 1.89 BILLION and some are out right BROKE...! Look out for some very Angry people with NO PENSION'S AND NO RETIREMENT CHECKS...! THE ONLY WAY OUT IS TO START A DISASTER THAT KILLS MILLIONS....!! COULD IT BE NUCLEAR......OR BIOLOGICAL....!!! GET READY...!! THE COLLAPSE IS AROUND THE CORNER....!!
Are you sure you want to delete this comment?
About moneyNOW
MoneyNOW brings users smart, original and entertaining takes on the latest business and investing topics that are buzzing on the Web.
MARKET UPDATE
[BRIEFING.COM]
July crude oil traded in negative territory today following China's HSBC Flash Manufacturing PMI data that showed a first contractionary reading in seven months. The energy component dipped to a session low of $92.21 per barrel in morning action but managed to erase most of the earlier losses as prices rallied to a session high of $94.35 per barrel heading into the close. Crude oil settled just 0.1% lower at $94.14 per barrel.
June natural gas opened floor trade in ... More
More Market News
TOP STOCKS
Many signs point to a dollar rally
With Europe mired in recession, China faltering, commodities declining and stocks looking vulnerable, investors seeking safety will look to the greenback.