Enron fraud-master Jeff Skilling may serve less time
The Justice Department wants to reduce his 24-year sentence, but the original judge, former employees and investors will have a say.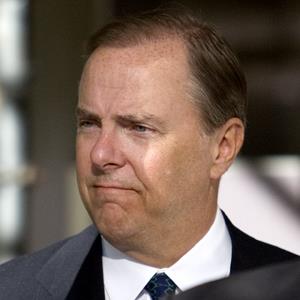 Remember Jeffrey Skilling? The former chief executive of Enron who captained that sinking ship into a trench on a tide of fraud? The man whose actions cost thousands of employees their livelihoods and retirements, and investors their savings? The one who's supposed to be riding out a 24-year prison sentence?
Yeah, he might be packing his bags and coming to a happy hour networking event near you soon.
Because the Department of Justice apparently just wants the scolding from Elizabeth Warren that every other government oversight agency got in February, it's considering springing Skilling early through a new deal with prosecutors and his attorneys. Reuters reports that on Wednesday the Justice Department posted a notice indicating that it's considering re-evaluating Skilling's 2006 sentence for conspiracy, fraud and insider trading.
Skilling has served just about six years of that 24-year sentence.
As CNBC noted, a federal appeals panel ruled in 2009 that the original sentence imposed by U.S. District Judge Sim Lake was too harsh. Since then, a new sentence for the 59-year-old Skilling has been delayed by appeals and negotiations. In its notice to victims, the Justice Department says the potential deal "could restrict the parties and the Court from recommending, arguing for, or imposing certain sentences or conditions of confinement."
However, the deal would also prevent Skilling from making future appeals once a new sentence is handed down. And it gives former Enron employees, stockholders and other victims of Skilling's fraud that led to Enron's 2001 bankruptcy a chance to object. It would also require Lake's approval.
Skilling and his representatives have framed any potential deal as a means of avoiding an investigation of the Justice Department's Enron Task Force and a potential retrial based on the task force's alleged misconduct. But it's more likely that Justice will squeeze more money out of Skilling for his role in the collapse while upholding his conviction on 19 criminal counts. It will also do little to obscure the fact that Skilling stepped down only six months after becoming CEO in 2011, leaving financial disaster in his wake.
With regulatory agencies already under fire for a lack of prosecutions tied to the mortgage meltdown, credit default swaps and institutional failures that fueled the last recession, undoing one of the few corporate prosecutions federal authorities actually managed in the 2000s would be a devastating blow.

Skilling oversaw what was, at the time, the largest bankruptcy in American history. If that gets lost in the Justice Department's impatience with the appeals process or fear of further litigation, it just confirms steadily mounting cynicism about the government's ability -- or will -- to prosecute financial and corporate misdeeds.

Reduced? This rat bastard should have his time increased. Hard labor for the rest of his days would be more fitting. Screw this scumbag, make him pay for all the pain he caused people. Make an example of him and start punishing all of them. No more soft hands for people like this. Total BS.
I think its time

Only under the conditions that he never be allowed to own anything, must live on the street, and every penny and possession in the hands of his family be extracted and given to the victims of his crimes.  None of this crap like Ken Lay handing his ill gotten gains over to his wife and family, while his victims and their families suffer.
Are you sure you want to delete this comment?
DATA PROVIDERS
Copyright © 2014 Microsoft. All rights reserved.
Fundamental company data and historical chart data provided by Morningstar Inc. Real-time index quotes and delayed quotes supplied by Morningstar Inc. Quotes delayed by up to 15 minutes, except where indicated otherwise. Fund summary, fund performance and dividend data provided by Morningstar Inc. Analyst recommendations provided by Zacks Investment Research. StockScouter data provided by Verus Analytics. IPO data provided by Hoover's Inc. Index membership data provided by Morningstar Inc.
MARKET UPDATE
[BRIEFING.COM] The stock market began the new trading week on the defensive note with small-cap stocks pacing the retreat. The Russell 2000 (-1.4%) and Nasdaq Composite (-1.1%) displayed relative weakness, while the S&P 500 lost 0.8% with all ten sectors ending in the red.

Global equities began showing some cracks overnight after China's Finance Minister Lou Jiwei poured cold water on hopes for new stimulus measures. Specifically, Mr. Lou said the government has no plans to change ... More
More Market News