No-money ball: Why the Astros and Marlins will lose
The Houston and Miami teams spend shockingly little on player salaries, not necessarily damning but awfully hard to overcome.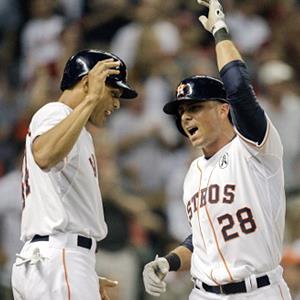 Even before the first pitch ever crossed the plate for the 2013 Major League Baseball season, the Houston Astros and the Miami Marlins had two strikes against them on the game's financial basepaths.
The Astros have moved to the American League this year and even managed to upset cross-state rivals Texas Rangers 8-2 in their
debut game in their new league
, their first season-opening win since 2006. Fans in Houston might want to savor it because most baseball experts don't expect to see many more such victories.
Ken Rosenthal
of Fox Sports predicts the Astros will post a dismal record of 45-117, continuing the streak of 100-plus-loss seasons.
One big reason for the low expectations for the Astros is their estimated $25 million payroll -- by far the lowest in the Major Leagues. As
Brian Shachtman
of CNBC and others have noted,  individual players such as New York Yankee slugger Alex Rodriguez make more money than the whole Astros team.
Chip Bailey of the
Houston Chronicle
is trying to stay optimistic, noting that "No one is predicting playoffs and division titles, but there is a level of excitement as youth is served amidst a handful of veterans seeking to carry a rebuilding -- oops, 'under construction' -- team on its shoulders."
As for the Marlins,
Bloomberg Businessweek
described owner Jeffrey Loria as "the most hated man in baseball" for his habit of dumping high-priced players when things didn't go his way, such as last year's 92-loss season. The team traded five players in November to the Toronto Blue Jays to rid itself $146.5 million in salary. And that was after officials in Miami-Dade County ponied up $490 million to build a new stadium after Loria threatened to move the team.
Not surprisingly, the Marlins lost $47 million last year. Their $45 million payroll is the second lowest in the majors behind the Astros.
A Marlin fan site even posted an
April Fool's story
saying Loria had agreed to sell the Marlins for $680 million to Micky Aronson, CEO of
Carnival Corp.
(
CCL)
, for $680 million. Arinson also owns the Miami Heat, the defending National Basketball Association champions, so he knows a thing or two about winning. Alas, it was just another cruel joke on Marlins fans, whose hopes will likely be dashed again.
Jonathan Berr does not own shares of the listed stocks. He thinks the Philadelphia Phillies will do better than the pundits expect. Follow him on Twitter @jdberr.

Stupid, shallow article.  Any amount of effort on the part of the typer (can't even bring myself to use the words "writer" or "reporter") would have shown that the Astros have been putting significant effort into rebuilding their organization to develop young talent.  They have revamped the front office, including poaching two analytics experts from Baseball Prospectus.
Instead of blowing a bunch of money on expensive free agents, who might get them up to 70 wins, they're developing their youngsters, giving them instruction and playing time at every level, from Rookie ball up to MLB.  In the next 3-5 years, the best of these kids will form the nucleus of a (cost-effective) competitive ballclub, and then, some of the money the club is saving now can be applied to picking up the couple of free agents needed to fill the remaining holes.
The Marlins are just evil.
Are you sure you want to delete this comment?
DATA PROVIDERS
Copyright © 2014 Microsoft. All rights reserved.
Fundamental company data and historical chart data provided by Morningstar Inc. Real-time index quotes and delayed quotes supplied by Morningstar Inc. Quotes delayed by up to 15 minutes, except where indicated otherwise. Fund summary, fund performance and dividend data provided by Morningstar Inc. Analyst recommendations provided by Zacks Investment Research. StockScouter data provided by Verus Analytics. IPO data provided by Hoover's Inc. Index membership data provided by Morningstar Inc.
MARKET UPDATE
[BRIEFING.COM] After spending the first two hours of the trading day in a steady slide, the S&P 500 has maintained a four-point range over the past 60 minutes.

The materials sector (+0.1%) has been able to stay out of the red, but its slim gain is now in jeopardy following an orderly decline from the opening high. Steelmakers have factored into the retreat as evidenced by a 2.9% decline in the Market Vectors Steel ETF (SLX 47.23, -1.40). Miners haven't done much to turn the ... More
More Market News