States risk $8.4B by snubbing Medicaid expansion
Because of their mistrust of Obamacare, Texas, Georgia and others could lose huge amounts of federal funding.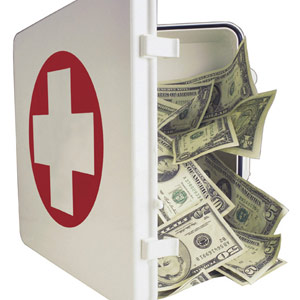 Obamacare gives states and their lawmakers the right to reject the health care insurance overhaul's expansion of Medicaid benefits. But a new study is laying out the cost of doing that: a potential loss of $8.4 billion in federal funding. 

By refusing to expand Medicaid coverage, states would leave about 3.6 million people who would have been covered under the Affordable Care Act with no health insurance, potentially adding to the states' costs, a study from the nonprofit Rand Corp. notes.
"Our analysis shows it's in the best economic interests of states to expand Medicaid under the terms of the federal Affordable Care Act," said Carter Price, the lead author of the study and a mathematician at the research organization. 
The fact is, Obamacare remains contentious not only with individual Americans but with local governments. 
As of late May, 13 states had said they wouldn't participate in the Medicaid expansion, ranging from Alabama to Maine, according to the Advisory Board. An additional six states, including Virginia and Utah, were leaning in that direction.
The federal government has pledged to cover 100% of the costs for expanding Medicaid through 2016, then scale back to 90% by 2020. Currently, the government covers 57% of Medicaid's costs, Rand notes. 
The reasons for digging in their heels against the expansion? Some state lawmakers say the plan will result in a huge financial strain. Plus, many don't trust the federal government's pledge of financial assistance.
"I think that is something our state cannot afford," Georgia Gov. Nathan Deal said last year. "And even though the federal government promises to pay 100% for the first three years and 90% thereafter, I think it is probably unrealistic to expect that promise to be fulfilled in the long term."
But those states might not be looking at the bigger picture, Rand suggests. Obamacare will reduce state and local spending by as much as $18.1 billion because of increased health care coverage, the study says. 
"Choosing to not expand Medicaid may turn out to be the more-costly path for state and local governments," Price said.
As MSN Money wrote in April, a state's decision to forgo Medicaid expansion could have a ripple effect on employers with 50 or more full-time workers because they're required to provide insurance under the overhaul. Companies that don't will face per-employee annual penalties of $2,000.
To get around that, companies such as Regal Entertainment Group (RGC) are cutting hours for workers rather than provide insurance under the overhaul. 
Follow Aimee Picchi on Twitter at @aimeepicchi.

Ah the GOP. They just can't help shooting themselves in the foot. And all just to be obstinate obstructionists of anything put forward by the President. C'mon GOPers, please do remember to tell the taxpayers in your state the truth about why they will be paying for other states healthcare.

Yes, politics probably plays a part in some of the states not expanding Medicaid. But how many states are already behind in their Medicaid payments (quite a few - I work as a healthcare auditor, BTW).

Personally, I am also skeptical the Feds will cover 90% of the expansion for the long haul. Considering our national debt, Medicare solvency issues, Soc Sec solvency issues......these problems are going to come to a head and the money to fix them will have to get cut from somewhere.
And if those states are doing it just to send a political message...and they can afford it......well, they are in a lot better financial position than my (democrat controlled) state that has some of the highest taxes in the union and a 100 billion dollar unfunded pension liability that will remain unfixed when session ends.
Are you sure you want to delete this comment?
DATA PROVIDERS
Copyright © 2014 Microsoft. All rights reserved.
Fundamental company data and historical chart data provided by Morningstar Inc. Real-time index quotes and delayed quotes supplied by Morningstar Inc. Quotes delayed by up to 15 minutes, except where indicated otherwise. Fund summary, fund performance and dividend data provided by Morningstar Inc. Analyst recommendations provided by Zacks Investment Research. StockScouter data provided by Verus Analytics. IPO data provided by Hoover's Inc. Index membership data provided by Morningstar Inc.
MARKET UPDATE
[BRIEFING.COM] The stock market finished the Tuesday session on the defensive after spending the entire day in a steady retreat. The S&P 500 (-0.6%) posted its third consecutive decline, while the small-cap Russell 2000 (-0.9%) slipped behind the broader market during afternoon action.

Equity indices were pressured from the start following some overnight developments that weighed on sentiment. The market tried to overcome the early weakness, but could not stage a sustained rebound, ... More
More Market News