Michigan lawmakers OK 'right-to-work' measure
The state's governor is expected to sign union dues legislation after President Obama derides it as 'right to work for less money.'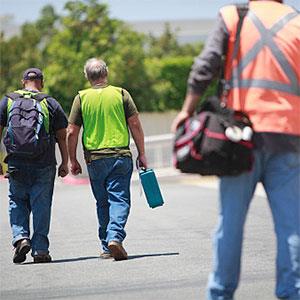 The president doesn't like it, the incoming Democrats in the Michigan House of Representatives don't like it and unions don't like it but, as of Tuesday, Michigan is a ceremonial step away from being a "right-to-work" state.
After Michigan Republicans lost five seats in the state's House of Representatives in the November elections, new laws making the payment of union dues voluntary became a priority. Republican Gov. Rick Snyder once considered the legislation too divisive, but fast-tracked it to the House on Thursday, where it passed 58-52. A Senate measure covering private-sector workers passed 22-16 on Friday, with a second bill applying to government employees passing 22-4 after Senate Democrats walked out. Republicans hold majorities in both chambers.
The House and Senate signed off on each other's bills Tuesday and Snyder was expected to sign it into law as early as Wednesday after tweeting this week that "Michigan needs to maintain its competitive edge, and Freedom to Work can help make that happen."
A day earlier, President Barack Obama told employees at Daimler's Detroit Diesel in Redford, Mich., that Michigan lawmakers shouldn't be trying "to take away your right to bargain for better wages."

"These so-called right-to-work laws, they don't have anything to do with economics, they have to do with politics," the president said before further attacking the law as the "right to work for less money."
Neither side's view of the debate has been 100% unfiltered. Supporters say the law will prevent workers from being forced into unions they don't want to join, but federal law already prevents employees from being forced into unions or other groups they're ideologically opposed to. Opponents including the president say it crushes collective bargaining, but it only gives workers the right to refuse to pay for that bargaining. At its crux, the agreement is about letting employees work under a contract unions bargained for without paying the cost of that bargaining.

That said, Tuesday's decision and Wednesday's potential signing likely don't settle matters between Michigan politicians and labor unions. Unions besieged the state capitol building in Lansing for the last week and are pushing to recall lawmakers who voted for the bill and Gov. Snyder -- similar to the push that took place after Wisconsin passed controversial anti-union measures last year. Snyder isn't up for re-election until 2013.
Union membership among the U.S. workforce has dwindled from 30% nearly 50 years ago to about 12%. Meanwhile, nearly half the states in the U.S. have adopted "right-to-work" laws. Elise Gould and Heidi Shierholz, researchers at the Economic Policy Institute, studied what they called "the compensation penalty of 'right-to-work' laws" and found that wages decreased an average of 3% in right-to-work states, health insurance benefits fell by a similar margin and retirement plan contributions decreased 5%.

Unions, meanwhile, point to Department of Labor and Census Bureau data showing that workers in right-to-work states make an average of $5,500 less than their union-state counterparts while working in states with 53% more workplace deaths.
More from Money Now
DATA PROVIDERS
Copyright © 2014 Microsoft. All rights reserved.
Fundamental company data and historical chart data provided by Morningstar Inc. Real-time index quotes and delayed quotes supplied by Morningstar Inc. Quotes delayed by up to 15 minutes, except where indicated otherwise. Fund summary, fund performance and dividend data provided by Morningstar Inc. Analyst recommendations provided by Zacks Investment Research. StockScouter data provided by Verus Analytics. IPO data provided by Hoover's Inc. Index membership data provided by Morningstar Inc.
MARKET UPDATE
[BRIEFING.COM] The stock market finished an upbeat week on a mixed note. The S&P 500 shed less than a point, ending the week higher by 1.3%, while the Dow Jones Industrial Average (+0.1%) cemented a 1.7% advance for the week. High-beta names underperformed, which weighed on the Nasdaq Composite (-0.3%) and the Russell 2000 (-1.3%).

Equity indices displayed strength in the early going with the S&P 500 tagging the 2,019 level during the opening 30 minutes of the action. However, ... More
More Market News