Guitar Center workers want to unionize
The music equipment chain's New York employees are trying to battle Bain Capital's shrinking commissions and pressure to sell warranties.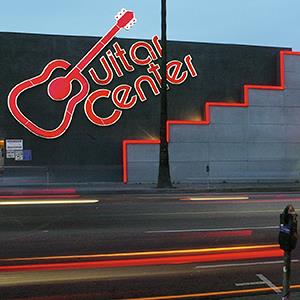 Damn the man
, save
Guitar Center
.
In a case of rockers vs. squares normally reserved for '90s films like "Airheads" -- or at least a time when the increasingly antiquated notion of "rock 'n' roll" still had cultural impact -- Guitar Center workers in New York City are attempting to unionize with some help from the Retail, Wholesale and Department Store Union.

They've filed an election petition to unionize the music equipment chain's flagship store in Manhattan and, according to The Huffington Post, have signatures from 80% of workers in their expected bargaining unit.
Who are the suits inspiring this move? Let's just say they look a lot like this guy. Bain Capital, former Republican presidential candidate Mitt Romney's old firm, bought the Guitar Center chain for $2.1 billion in October 2007, with Goldman Sachs sitting in as an adviser on the deal. Since then, employees claim worker commissions have been increasingly cut as Bain pushes employees to sell unpopular extended warranties.
Founded in 1959 in Southern California, Guitar Center now has 244 stores in 44 states. Its sales totaled $2.1 billion last year. However, Bain Capital doesn't swoop in and buy a company because it's doing well. The chain's parent company, Guitar Center Holdings, is carrying $1.6 billion in debt, had its credit downgraded by Moody's in 2010 and has seen its turf encroached upon by only outlets like Amazon (AMZN).
The union thinks the chain can still compensate its employees better and launched an online petition to generate public interest in the workers' cause. Among the signers so far are musicians including Billy Bragg, Steve Earle, Rage Against The Machine and Audioslave member Tom Morello and Bikini Kill and Le Tigre frontwoman Kathleen Hanna.
Bain refused to comment, but the union notes that Guitar Center has hired the Jackson Lewis firm -- which has built its reputation on helping companies avoid unionization -- as its representative. As for the workers, their move could have far broader implications for retail salespeople, who have the most common job in the country. There are about 4.3 million retail salespeople in the U.S. making an average of $25,000 a year. That's well below the average median wage of $45,790, but still a dream paycheck for Guitar Center workers who make the $7.25-an-hour minimum and have to sell a certain amount of product against their base pay before earning a commission.

Guitar Center likes to take things away from employees. Today, the new CEO (Mike Pratt) took away reserved parking spaces of 35 support center managers in California. Sad when you give something to a hard working team member, and then just take it away.....He didn't even tell them in person. They found out from a generic all company email. 


What kind of crap are they selling that everything needs an extended warranty these days? My grandmother's phone lasted for over 30 years until the day she died; I'll be lucky if the home phone I have now will last a year before the "planned obsolescence" kicks in. This type of short term mentality by big business is KILLING America.

Best to shop around I play guitar and boy my first Les Paul back in 1977 brand new LP Deluxe w/mini buckers was 700.00 USD. These were not cheaper lacking craftsmanship plastic substituted product. Now a decent Les Paul will cost at least 1500.00 USD and up. Your not going to get quality at lower prices it you played them you'd see and feel the difference. Fender USA has an excellent product American Tele Standard got one of those. But for the most part these products are overpriced shop used look for ebay deals. If you patient you find them. I saved couple grand people who overspend are now scraping for cash and deals are to be had.

Unfortunately for these workers, they have no skills sets. Every young musician who wants to work in "music" can replace them. They could fire the whole lot and replace them in a week. And as far as extended warranty's they are a rip off, but a good business offering for the store (especially for electronics).  
Are you sure you want to delete this comment?
DATA PROVIDERS
Copyright © 2014 Microsoft. All rights reserved.
Fundamental company data and historical chart data provided by Morningstar Inc. Real-time index quotes and delayed quotes supplied by Morningstar Inc. Quotes delayed by up to 15 minutes, except where indicated otherwise. Fund summary, fund performance and dividend data provided by Morningstar Inc. Analyst recommendations provided by Zacks Investment Research. StockScouter data provided by Verus Analytics. IPO data provided by Hoover's Inc. Index membership data provided by Morningstar Inc.
MARKET UPDATE
[BRIEFING.COM] The stock market finished an upbeat week on a mixed note. The S&P 500 shed less than a point, ending the week higher by 1.3%, while the Dow Jones Industrial Average (+0.1%) cemented a 1.7% advance for the week. High-beta names underperformed, which weighed on the Nasdaq Composite (-0.3%) and the Russell 2000 (-1.3%).

Equity indices displayed strength in the early going with the S&P 500 tagging the 2,019 level during the opening 30 minutes of the action. However, ... More
More Market News