Wal-Mart, unions fund battles over labor laws
Each side made sizable campaign contributions in New York state as a retail jobs tax credit got stitched into a minimum wage bill.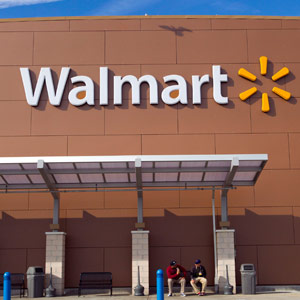 The battle over minimum wage increases may look like it's being fought in the halls of government, but a recent spat between unions and retailers implies otherwise: It's taking place anywhere a labor group or company like
Wal-Mart
(
WMT
) can drop a few envelopes of cash.
In March, the New York state legislature and Gov. Andrew Cuomo increased the minimum wage from $7.25 to $9 an hour over the next three years. Tucked away in the far paragraphs of the law are tax credits for employers who hire seasonal employees ages 16 to 19 who are still in school. Those credits add up to $20 million to $40 million a year with no cap on the payments.
The United Food and Commercial Workers International Union (UFCW), which represents workers in grocery and retail stores, and in food-processing and meatpacking companies, says a series of campaign contributions by Wal-Mart made just before the vote may have led to those tax benefits.
Wal-Mart has contributed more than $105,000 to New York Republican senators and Assembly members over the past two years as Democratic support for the issue grew, state election records show. In addition, Wal-Mart provided $400,000 since January 2011, most of it in 2012, to a state Republican Senate account that can be used for several purposes.
Is it the "legal bribery" UFCW and its Retail, Wholesale and Department Store Union colleagues imply? If so, the unions aren't doing such a bad job greasing palms, either. The RWDSU and its locals contributed $92,000 since 2010 to local and state candidates, mostly Democrats. The UFCW and its locals contributed $288,000 during the period.
Wal-Mart is a nonunion shop, but labor unions have given it plenty of grief over working conditions and wages in recent years. The giant discounter actually sued unions in Florida for "illegal trespass" after they protested increased store hours on Black Friday last year.

The issue has also put Wal-Mart at a disadvantage with its warehouse-size competitors at Costco (COST), which is lobbying for a higher minimum wage, paying its starting employees nearly $3 more an hour than Wal-Mart and considering benefits like health care untouchable. Oh, and Costco just signed a three-year contract with the Teamsters.
With unions seeking public financing of political campaigns and Wal-Mart looking to maintain the bottom line, the two groups at a stalemate. Considering that New York workers still received their minimum wage increase and Costco has used every Wal-Mart/union dustup to build market share, it's a stalemate Wal-Mart still somehow managed to lose.
More on moneyNOW
DATA PROVIDERS
Copyright © 2014 Microsoft. All rights reserved.
Fundamental company data and historical chart data provided by Morningstar Inc. Real-time index quotes and delayed quotes supplied by Morningstar Inc. Quotes delayed by up to 15 minutes, except where indicated otherwise. Fund summary, fund performance and dividend data provided by Morningstar Inc. Analyst recommendations provided by Zacks Investment Research. StockScouter data provided by Verus Analytics. IPO data provided by Hoover's Inc. Index membership data provided by Morningstar Inc.
MARKET UPDATE
[BRIEFING.COM] After spending the first two hours of the trading day in a steady slide, the S&P 500 has maintained a four-point range over the past 60 minutes.

The materials sector (+0.1%) has been able to stay out of the red, but its slim gain is now in jeopardy following an orderly decline from the opening high. Steelmakers have factored into the retreat as evidenced by a 2.9% decline in the Market Vectors Steel ETF (SLX 47.23, -1.40). Miners haven't done much to turn the ... More
More Market News