CEO pay may be stalled, but the perks aren't
Despite smaller raises for many top executives, lavish extras like corporate jets are on the rise.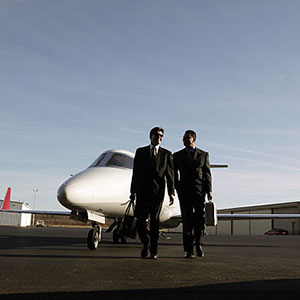 Call it payment by Gulfstream. 

While the median pay of the top 100 highest-paid American chief executives barely budged last year, spending on their overall "perks packages" saw a jump of almost 19%, according to The New York Times, citing a study from executive compensation data firm Equilar.
What's in a perks package? It contains goodies like travel via a $65 million Gulfstream jet, as well as benefits such as pensions and life insurance policies. 
For the executives examined by The Times, which looked at the CEOs of companies with revenue of more than $5 billion, the typical 2012 perks package was worth $320,635.  
But don't shed any tears for the CEOs' stalled take-home: While total pay among the 100 executive rose only 2.8%, the median pay was a whopping $14 million. 
One recent example of a top executive who saw his pay marked down, yet was granted generous perks, is J.C. Penney (JCP) Chief Executive Ron Johnson. 
His total compensation took a huge hit -- a reduction of more than $50 million, as reported by MSN moneyNOW on Wednesday -- yet he was awarded $344,000 for personal use of the company's private jet. 
Cash compensation is also seeing a return in popularity, with overall cash payments rising 19.7% to $5.7 million, The Times notes. 
So, who received the most generous pay packages last year? Many of the most lavishly rewarded CEOs head companies with well known brand names, such as Starbucks (SBUX) and Walt Disney (DIS), according to the report. All of the executives in the top 10 each earned more than $25 million. 
The highest paid leader is Oracle (ORCL) CEO Larry Ellison, who earned a total pay package of $96.2 million last year (yes, you're reading that number correctly).
Almost all of the compensation was in stock, and it represented $20 million more than his 2011 earnings. It also came as Oracle's stock plunged 22% in its fiscal 2012, The Times notes. 
Ellison's perks included $1.5 million for a security retinue. 
"He doesn't care what shareholders think," compensation consultant Alan Johnson told the newspaper. "He's one of the richest guys in the world, and he has the company pay for his bodyguards. I don't think he's going to change."
While travel on private jet was one of the more popular perks, some CEOs gained more unusual compensation. Wynn Resorts (WYNN) CEO Steve Wynn racked up costs of $451,574 last year for a villa in Las Vegas, for example.
But Wynn wasn't shy when it came to private travel, either. He booked almost $1.2 million in personal trips on the company's jet, according to a regulatory filing. And in December, The Times notes, Wynn Resorts took delivery of a $65 million Gulfstream, the better to carry its CEO between New York -- where he has a $70 million penthouse -- and Las Vegas. 
DATA PROVIDERS
Copyright © 2014 Microsoft. All rights reserved.
Fundamental company data and historical chart data provided by Morningstar Inc. Real-time index quotes and delayed quotes supplied by Morningstar Inc. Quotes delayed by up to 15 minutes, except where indicated otherwise. Fund summary, fund performance and dividend data provided by Morningstar Inc. Analyst recommendations provided by Zacks Investment Research. StockScouter data provided by Verus Analytics. IPO data provided by Hoover's Inc. Index membership data provided by Morningstar Inc.
MARKET UPDATE
[BRIEFING.COM] S&P futures vs fair value: -5.50. Nasdaq futures vs fair value: -13.00. Nasdaq at... NYSE Adv/Dec 0/0... Nasdaq Adv/Dec 0/0.
More Market News