Wal-Mart crimped by slow tax refunds
It says customers have cashed $1.3 billion less in refunds than a year ago. Who's to blame? The IRS and H&R Block.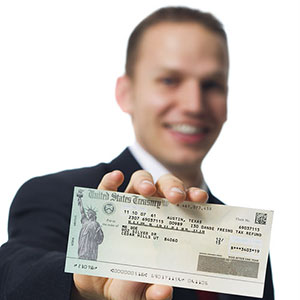 For Wal-Mart (WMT), tax season is big business. The retailer not only prepares its customers' taxes but also relies on the refunds to fuel retail purchases. It offers tax refund specials on things like flat-screen TVs and new mattresses.

But that reliance is growing into a headache. The problem is that customers are getting their refund checks later than usual, which the retailer blamed for the slow start to its current quarter. 
Wal-Mart has now put some numbers behind its claim. Chief Financial Officer Charles Holley said Tuesday that only $2.7 billion in tax refund checks have been cashed so far in its U.S. stores. Sounds good? Well, that's down from $4 billion a year ago, according to Reuters. As my colleague Charley Blaine wrote in February, Wal-Mart had its worst start to that month in at least seven years, partly because of the delayed returns. 
So why the holdup? The IRS pushed back this year's filing date, with most taxpayers unable to file their returns until Jan. 30, instead of the previously scheduled Jan. 22 start. Another portion of taxpayers had to wait until February or March for the agency to update its systems to deal with the new tax package passed by Congress, as reported by The Associated Press.
And another tax snafu has ensnared an additional 600,000 taxpayers. Some returns filed by H&R Block (HRB) were botched, with the tax preparer failing to properly file Form 8863, which claims educational credits, USA Today reports. 
While in previous years preparers could leave a field on this form blank to indicate "no," this year they need to write "n," which didn't happen with some H&R Block returns. That mistake affects 10% of the 6.6 million returns with the form, although the IRS didn't disclose how many of the bungled returns came from H&R Block.
While H&R Block apologized on its Facebook page, the comments from customers were often scathing. Some demanded their money back, while others are threatening to ditch the service. 
As one poster pointed out, the snafu has hurt her ability to meet her financial obligations: "Because H&R Block messed up my tax refund, I don't have enough money to pay my tuition or rent!"
While Wal-Mart is also getting dinged by this year's messy tax season, its CFO says the problems should all smooth out by the end of the quarter, as the refunds start flowing.
Hey Aimee Picchi, how about some truthful and accurate disclosures about your article?  Is there any reason that you didn't point out that Walmart has purchased Jackson-Hewitt Tax Service?  Jackson-Hewitt is one of H & R Block's biggest competitors and they obviously would like to make H & R Block look bad. 
The problem with the Form 8863 this year was that IRS started accepting them on February 14th, but the IRS computers were not properly programmed to read 4 yes/no responses on Page 2 of the Form 8863.
And no, I do not and have never worked for H & R Block.  I am an independent tax preparer.
Any competent tax preparer would answer a yes/no question with a YES or a NO, not by leaving it blank.  And for your information Aimee, the Form 8863 questions have Yes and NO checkboxes.  You don't write "N" anywhere on the form.  There is no place for it.
Ever consider hiring a competent fact checker for your acticles?

If you can't pay your rent because of a late tax return, no one ever taught you a thing about tax returns.  You shouldn't pay in that much more than you owe, you should save it and pay your rent!  That money is yours, why lend it to the government for a year?!
I have no pity for these fools, and absolutely no pity for the Walmart family.

The people getting "refunds" at Walmart don't pay any federal income tax.  So stop trying to figure out why they pay in to much over the course of the year. The handout they get at the end of the every year has the folks at Walmart drooling to get their hands on it.  That's why Walmart got into the tax return business.  Surprise.  It was not to help their customer.  For most of the sheep that live there, there handout is spent even before they get it.  Walmart preys on these people.  The sheep are so desperate that they will gladly give Walmart their entire handout for a few boxes of crappy merchandise that's not worth .20 cents on the dollar that taxpayers paid for it.  The Execs at Walmart have the balls to complain that they have not gotten enough of these poor bastards free money, sickening.  

Get rid of the income tax and the IRS. Final consumption sales tax only!!!! Then give the American people the direct right to determine what they are willing to buy throw government ( by pass congress). In 4 years the American people will cut government spending by at lest 35% and increase the productive of our tax dollars spent by 400%.

How pathetic that WM says its sales are slow because of later income tax refunds. Its sales are slow because their employees are slow and usually sort of grumpy. I was real glad when Costco came in our area. Pleasant, helpful, and fast. . And have you ever been to Aldi's for smaller grocery purchases? Talk about fast. I can drive right past Walmart, go to Aldi's, buy my groceries, be home and have them put up in less time that I could get in and out of WM. I only go to WM now if I have lots of time and am feeling extremely patient.
Also, I can't understand why people allow so much to be taken out for taxes during the year that they get a big refund. Why would you give the IRS and interest-free loan?
Are you sure you want to delete this comment?
DATA PROVIDERS
Copyright © 2014 Microsoft. All rights reserved.
Fundamental company data and historical chart data provided by Morningstar Inc. Real-time index quotes and delayed quotes supplied by Morningstar Inc. Quotes delayed by up to 15 minutes, except where indicated otherwise. Fund summary, fund performance and dividend data provided by Morningstar Inc. Analyst recommendations provided by Zacks Investment Research. StockScouter data provided by Verus Analytics. IPO data provided by Hoover's Inc. Index membership data provided by Morningstar Inc.
MARKET UPDATE
[BRIEFING.COM] The stock market finished an upbeat week on a mixed note. The S&P 500 shed less than a point, ending the week higher by 1.3%, while the Dow Jones Industrial Average (+0.1%) cemented a 1.7% advance for the week. High-beta names underperformed, which weighed on the Nasdaq Composite (-0.3%) and the Russell 2000 (-1.3%).

Equity indices displayed strength in the early going with the S&P 500 tagging the 2,019 level during the opening 30 minutes of the action. However, ... More
More Market News