Wal-Mart crimped by slow tax refunds
It says customers have cashed $1.3 billion less in refunds than a year ago. Who's to blame? The IRS and H&R Block.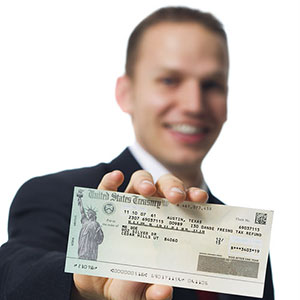 For Wal-Mart (WMT), tax season is big business. The retailer not only prepares its customers' taxes but also relies on the refunds to fuel retail purchases. It offers tax refund specials on things like flat-screen TVs and new mattresses.

But that reliance is growing into a headache. The problem is that customers are getting their refund checks later than usual, which the retailer blamed for the slow start to its current quarter. 
Wal-Mart has now put some numbers behind its claim. Chief Financial Officer Charles Holley said Tuesday that only $2.7 billion in tax refund checks have been cashed so far in its U.S. stores. Sounds good? Well, that's down from $4 billion a year ago, according to Reuters. As my colleague Charley Blaine wrote in February, Wal-Mart had its worst start to that month in at least seven years, partly because of the delayed returns. 
So why the holdup? The IRS pushed back this year's filing date, with most taxpayers unable to file their returns until Jan. 30, instead of the previously scheduled Jan. 22 start. Another portion of taxpayers had to wait until February or March for the agency to update its systems to deal with the new tax package passed by Congress, as reported by The Associated Press.
And another tax snafu has ensnared an additional 600,000 taxpayers. Some returns filed by H&R Block (HRB) were botched, with the tax preparer failing to properly file Form 8863, which claims educational credits, USA Today reports. 
While in previous years preparers could leave a field on this form blank to indicate "no," this year they need to write "n," which didn't happen with some H&R Block returns. That mistake affects 10% of the 6.6 million returns with the form, although the IRS didn't disclose how many of the bungled returns came from H&R Block.
While H&R Block apologized on its Facebook page, the comments from customers were often scathing. Some demanded their money back, while others are threatening to ditch the service. 
As one poster pointed out, the snafu has hurt her ability to meet her financial obligations: "Because H&R Block messed up my tax refund, I don't have enough money to pay my tuition or rent!"
While Wal-Mart is also getting dinged by this year's messy tax season, its CFO says the problems should all smooth out by the end of the quarter, as the refunds start flowing.
DATA PROVIDERS
Copyright © 2014 Microsoft. All rights reserved.
Fundamental company data and historical chart data provided by Morningstar Inc. Real-time index quotes and delayed quotes supplied by Morningstar Inc. Quotes delayed by up to 15 minutes, except where indicated otherwise. Fund summary, fund performance and dividend data provided by Morningstar Inc. Analyst recommendations provided by Zacks Investment Research. StockScouter data provided by Verus Analytics. IPO data provided by Hoover's Inc. Index membership data provided by Morningstar Inc.
MARKET UPDATE
[BRIEFING.COM] S&P futures vs fair value: -9.00. Nasdaq futures vs fair value: -14.50. Nasdaq at... NYSE Adv/Dec 0/0... Nasdaq Adv/Dec 0/0.
More Market News