Jobless benefits ease sting for furloughed feds
The Department of Labor actually encourages the practice. After all, unemployment is a lot less than these workers' regular pay.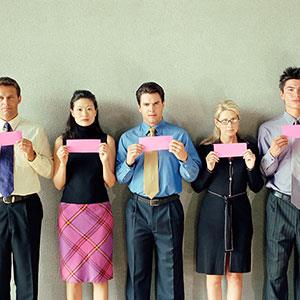 How are federal workers reacting to sequestration cuts and furloughs that are taking a bite out of their work schedules and paychecks? They're biting back through unemployment benefits.
In Pennsylvania, as CNNMoney points out, the Navy and its engineers union have agreed to dole out furlough days in weeklong blocks to be eligible for state and federal unemployment checks. A mechanical engineer who makes $104,000 a year and is about to lose $4,400 of that by taking 11 furlough days can recoup up to $1,100 through unemployment insurance.
The Department of Labor isn't only on board with allowing federal workers to make up furlough losses this way, it's actively encouraging them. It has advised federal workers to research unemployment rules in their area and has warned them that some states may become bogged down with such claims.
"You should expect longer than normal wait times due to the large volume of UCFE claims that may be filed," the department said in a statement.
The Unemployment Compensation for Federal Employees program uses federal taxpayer dollars to reimburse the states after they pay unemployment benefits to federal workers. In the private sector, either the employer or the employee pays into the state unemployment insurance fund.
California, Virginia, Texas and the District of Columbia -- which have the most federal workers in the U.S. -- aren't reporting an uptick in unemployment claims for federal employees.
In New York, however, the numbers are higher, thanks to a law that allows workers whose hours are cut through no fault of their own to collect partial unemployment benefits if they earned less than $405 during a shortened workweek. About 176 federal workers filed for unemployment benefits in New York during the week ending April 20 -- the week furloughs went into effect for Labor Department employees.
Isn't this undermining the purpose of these across-the-board cuts that Congress has shown little political will to roll back? Not really. Those unemployment benefits are just a small portion of what federal workers would be making otherwise. As the Philadelphia branch of the International Federation of Professional & Technical Engineers union points out, it's still a pay cut for everyone involved.
"It's not a pound-for-a-pound thing. It's essentially something people get in order to live on while they're going through this tough time," Gregory Junemann, the international president of the IFPTE union, told CNNMoney. "Remember, these are essentially middle-class people. They don't take this money and invest it in property in the Bahamas. They're buying groceries."
DATA PROVIDERS
Copyright © 2014 Microsoft. All rights reserved.
Fundamental company data and historical chart data provided by Morningstar Inc. Real-time index quotes and delayed quotes supplied by Morningstar Inc. Quotes delayed by up to 15 minutes, except where indicated otherwise. Fund summary, fund performance and dividend data provided by Morningstar Inc. Analyst recommendations provided by Zacks Investment Research. StockScouter data provided by Verus Analytics. IPO data provided by Hoover's Inc. Index membership data provided by Morningstar Inc.
MARKET UPDATE
[BRIEFING.COM] The stock market finished the Tuesday session on the defensive after spending the entire day in a steady retreat. The S&P 500 (-0.6%) posted its third consecutive decline, while the small-cap Russell 2000 (-0.9%) slipped behind the broader market during afternoon action.

Equity indices were pressured from the start following some overnight developments that weighed on sentiment. The market tried to overcome the early weakness, but could not stage a sustained rebound, ... More
More Market News