Unlucky homeowner caught in cellphone mix-up
For years, Sprint users tracking their lost phones have come banging on the door of a North Las Vegas retiree.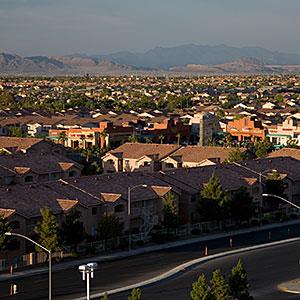 If people lose their cellphones in Las Vegas, chances are they'll come banging on the door of Wayne Dobson.
The 59-year-old, who lives in North Las Vegas, is the victim of a weird
Sprint
(
S
) glitch that for years has sent people to his house when they use location tracking to find their lost phones.
Normally, it can be pretty useful to track a missing phone from your computer or tablet. You can often use mapping software that shows exactly where the phone ended up.
But in Las Vegas, some tracking systems mysteriously direct people to Dobson's home. And it gets worse: Police tracking the locations of those making 911 calls from cellphones have arrived at Dobson's home as well.
Here are some of the incidents Dobson has had to deal with,
according to
the Las Vegas Review-Journal:
Four men knocked on his door at 2:30 a.m., screaming about their lost phone. The phone's owner showed Dobson a tablet computer, which said the phone was at the house.
The police searched the outside of his home with a flashlight at 4 a.m., responding to a 911 call from a woman who was arguing with someone. Dobson was taken outside and searched.
A young couple knocked on his door at midnight asking for their phone back.
A woman approached the house and demanded her phone back, saying she couldn't replace the photos of her grandchildren on the device.
Sprint told the Review-Journal that it's researching the problem to see "if it has anything to do with our company." That seems pretty likely, since police have been to Dobson's house four times now -- either on their own or responding to panicked cellphone users -- and each time the issue was a Sprint phone.
Experts consulted on the issue told the newspaper the problem is probably at Sprint's switchboard, where the software may be incorrectly replacing coordinates with ones corresponding to Dobson's house.
For his part, Dobson is now sleeping near his front door so he can quickly answer when screaming people pound on it.
More on Money Now
About moneyNOW
MoneyNOW brings users smart, original and entertaining takes on the latest business and investing topics that are buzzing on the Web.
MARKET UPDATE
[BRIEFING.COM] Commodities are mostly lower this morning, despite weakness in the dollar index, on broad market weakness. Crude oil and natural gas have slid lower since the overnight session and crude came close to the $93 level. July crude oil is now -0.9% at $93.38/barrel.

Natural gas fell about 2% off its overnight high and is still near its $4.22 session low. Currently, June nat gas is -0.8% at $4.23/MMBtu.

Precious metals have been modestly lower this morning with June gold ... More
More Market News