Tiffany may regain its lost luster
The best evidence for the resiliency of the wealthy consumer is probably the market for contemporary art.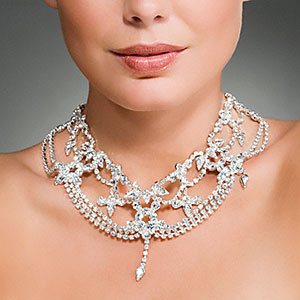 Tiffany & Co.
(
TIF
) is in Wall Street's doghouse because it has slashed its annual profit outlook three times this year as high diamond prices and Superstorm Sandy affected its performance.  The company may not linger there for long.
For one thing, diamond prices are expected to remain flat in 2013, though they are still going to be higher than levels seen from 2006 to 2010, according to an analysis by KPMG. Tiffany also is being hurt by the massive layoffs on Wall Street, particularly at its flagship store in New York City. Masters of the Universe will start to
buy $185
key chains again when business starts to pick up again, which should start to happen next year.
Though it's tempting to blame Tiffany's woes on the fiscal cliff, there isn't any evidence that it's having a major impact on consumer behavior. Indeed, a survey released by
Unity Marketing
found that more than half of all affluent consumers said they were better off financially than they were 12 months ago.
Bain & Co.
expects global sales of luxury goods to increase 7% to 9% through the middle of the next decade. 
The market is showing areas of strength, though it has not rebounded to pre-Recession levels. Sales of luxury automobiles are growing this year, though not at the rate that some had originally forecast because of rising demand in emerging markets, among other reasons. 
Harley-Davidson
(
HOG
), which recently reported
better-than-expected​
quarterly earnings, expects to ship 240,000 to 250,000 motorcycles this year, an increase of between 5% and 7% year over year. But the best evidence for the resiliency of the wealthy consumer is probably the market for contemporary art.
A recent Sotheby's auction took in more than $375 million, "the best auction result in any category in the Company's history," according to the auction house. It has taken in more than $1 billion in sales this year in this category. The attraction to these works is understandable.
ship 245,000 to 250,000, representing a year-over-year increase of 5% to 7%.


"It's the most liquid of all the art sectors," said Jeff Rabin, a principal at Artvest, which advises clients on investing in the art market, in an interview. "It's a global market. You can sell it anywhere."

--Jonathan Berr does not own shares of the listed stocks.  Follow him on Twitter@jdberr
More from Top Stocks

white people are soooo afraid that the dirt they have done for 300 plus years against people of color will come back on them that they are stocking up for that day. gun sales certainly didn't spike when Clinton was in office and he banned assault weapons.  Yes it's i'm afraid of the black man syndrome and the fact that the white population is shrinking.


It amazes me, all these people against Obama and his policies and yet he still got elected. DId you all stay home on election day? I dont see how he got re-elected if so many people and businesses are against him. Look its simple, We cant afford his plans. Fine me for not having insurance, have fun getting the cash, IM BROKE, taxes and utilities have taken it all. Through me in jail, at least then I wont have to worry about health care, food, heat, or housing. Forward my Butt.

All goods and services will go up because of this.  Same with union work vs free market work. union work cost us more.  I'll give you an example.  I wanted a pole barn and got bids from union and non-union companies.  The union builders wanted twice as much.  I can either do without my barn or go for the best price.  
Don't bother telling me about the better workmanship.  I can't afford it.  Come to find out, a lot of union workers, have the same non-union company build their pole barns as well.  It seems to them, it is OK to be union when you are getting paid but not when you pay for goods and services.  Obama care will cost us more...most companies will hide this from us.  What worries me is the dolling out of health care in increments, that fact, apparently most people don't care about. It will happen, I am an expert in that field, so remember you heard it here first.
Are you sure you want to delete this comment?
DATA PROVIDERS
Copyright © 2014 Microsoft. All rights reserved.
Fundamental company data and historical chart data provided by Morningstar Inc. Real-time index quotes and delayed quotes supplied by Morningstar Inc. Quotes delayed by up to 15 minutes, except where indicated otherwise. Fund summary, fund performance and dividend data provided by Morningstar Inc. Analyst recommendations provided by Zacks Investment Research. StockScouter data provided by Verus Analytics. IPO data provided by Hoover's Inc. Index membership data provided by Morningstar Inc.
MARKET UPDATE
[BRIEFING.COM] The stock market is doing pretty much what it was expected to do today in front of the FOMC decision (i.e. nothing). The major indices are little changed as traders wait anxiously for the Fed's latest directive and updated economic projections.

Everyone is waiting to see if the "considerable time" language is maintained in the directive after Wall Street Journal Fed watcher, Jon Hilsenrath, suggested yesterday it could be.

Mr. Hilsenrath's article ... More
More Market News