US deficit dives -- but not for long
The Congressional Budget Office says new taxes and spending cuts bridge the divide but may hinder economic growth.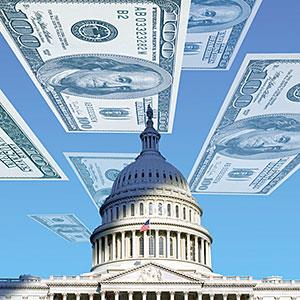 Give yourself a pat on the back, America: Your new tax burden just took the deficit below $1 trillion for the first time in five years.
The Congressional Budget Office projected Tuesday that the gap between taxes and spending will fall to $845 billion this year, making the first time it has limboed under $1 trillion since 2008, before President Barack Obama took office.

The fiscal cliff gets half the credit on this one, as the tax increases imposed on Jan. 1 helped whittle down the deficit, but the Washington Post points out that the block of spending cuts to the Pentagon and elsewhere commonly known as the sequester will bridge the gap as well.
Unfortunately, the CBO also says, those measures will shave about 1.25 percentage points off economic growth -- as the Post's Wonkblog has charted here -- and should cost the nation about 1.5 million jobs.

In an attempt to avoid that hit, the president has asked Congress to replace the sequester spending cuts slated to go into effect March 1 with a temporary debt-reduction package that would eliminate deductions and loopholes for the oil industry and wealthy Americans and cut farm subsidies. Republican lawmakers offered their response: Good luck with that.
House Speaker John Boehner said Tuesday that his party would oppose any further tax hikes and said the sequester was Obama's idea in the first place. House Budget Committee chairman and failed GOP vice presidential candidate Paul Ryan has called CBO's deficit projection "unsustainable" and touted a plan to The Associated Press that would balance the budget by 2023, but would cut $1 trillion in spending that year alone.
Beyond 2013, the CBO is predicting mixed results at best. In 2014, economic growth should hit 3.5% by the end of the year. Government spending cuts, however, should push the jobless rate above 7.5% for a sixth straight year, the CBO said, continuing the longest stretch in 70 years with unemployment that high. Still, the deficit should fall to roughly $430 billion by 2015, which would reduce it to 2.4% of the overall economy.
Meanwhile, the CBO suggests that spending on health care programs, including Medicare, Medicaid, child health insurance and new insurance subsidies, will continue to increase. Though Medicare and Medicaid spending fell 5% below CBO projections last year, about 27 million people will be insured thanks to the new health care law by 2022. That could bring the deficit back up to $1 trillion by the end of the next 10 years.
More on moneyNOW
DATA PROVIDERS
Copyright © 2014 Microsoft. All rights reserved.
Fundamental company data and historical chart data provided by Morningstar Inc. Real-time index quotes and delayed quotes supplied by Morningstar Inc. Quotes delayed by up to 15 minutes, except where indicated otherwise. Fund summary, fund performance and dividend data provided by Morningstar Inc. Analyst recommendations provided by Zacks Investment Research. StockScouter data provided by Verus Analytics. IPO data provided by Hoover's Inc. Index membership data provided by Morningstar Inc.
MARKET UPDATE
[BRIEFING.COM] S&P futures vs fair value: -9.00. Nasdaq futures vs fair value: -14.50. Nasdaq at... NYSE Adv/Dec 0/0... Nasdaq Adv/Dec 0/0.
More Market News