Your old, beat-up car may live on -- in Afghanistan
A lot of junked vehicles from the US and Europe end up there or in other faraway places, where they get fixed, cleaned and sold for a good price.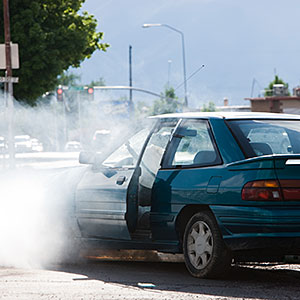 Ever wonder what happened to that old car of yours, the one you rode into the ground or totaled in an accident? It may have been salvaged for parts or turned into scrap. But there's also a reasonable chance it's back on the road somewhere far from its past life with you -- perhaps even in Afghanistan.
The Los Angeles Times reports thousands of junkers from the U.S. and Europe end up being auctioned off by insurers to middlemen in the Middle East. "The vehicles land in Dubai or other ports," the paper says, "and are then transferred onto other ships bound for Pakistan or -- after being resold to circumvent U.S. and European sanctions -- Iran."
And in Afghanistan, after some skilled repair work by local body shops, these used cars go up for sale in cities like Herat and Kabul.
The cars in question often still bear signs of their previous owners -- things like coffee and sweat stains, air fresheners and state vehicle registration stickers. Things left behind in the vehicles that might offend a driver in a Muslim country, such as liquor bottles or wrappers from pork-based fast food, are removed.
"No one worries if 'infidels' drove them," Afghan car lot owner Abdul Aziz told the Times, "as long as they're cleaned."

Prices on these "previously owned" cars can vary greatly, from about $15,000 for a late-model Toyota (TM) to less than $3,000 for an old bucket of bolts. Most used European cars for sale in Afghanistan have apparently not been in accidents and tend to command higher prices.
"I think Germans and Swiss must be better drivers, neater, more law abiding," Aziz told the newspaper. "Americans have that cowboy history."
It's easier to find spare parts in Afghanistan for Japanese brands than it is for Ford (F) or GM (GM) models. "I know one guy who sells Fords," a Herat car salesman named Abdullah said. "He sold them very cheap. They use too much gas."

Imports of used cars became a relatively big business in Afghanistan after the Taliban were ousted in 2001. But the global economic downturn, as well as uncertainly ahead of the scheduled withdrawal of U.S. and NATO forces next year, has slowed once-brisk car sales to a trickle.

Still, Afghan car salesmen, like their counterparts around the world, remain poised to make you a deal.
"I don't know why Americans don't fix their cars after an accident and keep using them," Abdullah said. "Perhaps they have so much money they don't care? Anyways, we sell 'em all."

We keep our old cars. The insurance is very high for an old car. My wife's car is a 94, and mine is 98,They run very well but there are few mechanics that know how to fix them.The small car get 29 mpg and the big car 22.5 most all the time and better mpg at higher speeds on the open road up to 27-28mpg. 181,000 on continental, 143,000 on Mazda mx6.fun to drive.

I bought a car from a mid east man in the USA. Two weeks later a man walked up to me and demanaded that the car was his. To give his car back. My car was replaced with one that looked just like it...but the back seat was scratched up. Problem is that is a theft ring. The people get here and trade out cars and they steal parts off cars they have sold.
Are you sure you want to delete this comment?
DATA PROVIDERS
Copyright © 2014 Microsoft. All rights reserved.
Fundamental company data and historical chart data provided by Morningstar Inc. Real-time index quotes and delayed quotes supplied by Morningstar Inc. Quotes delayed by up to 15 minutes, except where indicated otherwise. Fund summary, fund performance and dividend data provided by Morningstar Inc. Analyst recommendations provided by Zacks Investment Research. StockScouter data provided by Verus Analytics. IPO data provided by Hoover's Inc. Index membership data provided by Morningstar Inc.
MARKET UPDATE
[BRIEFING.COM] The major averages have not wasted any time in rebounding from their opening lows. The S&P 500, which started with an eight-point loss, has already recovered all but two points help from influential sectors like energy (+0.4%), financials (+0.1%), and technology (+0.1%).

On the flip side, consumer discretionary (-0.1%), industrials (-0.3%), and health care (-0.4%) remain weak.

The performance of the six sectors is likely to influence the direction of the ... More
More Market News