Should the US dump the penny too?
Canada is phasing out the coin, saying it offers too little return. The US spent $120 million in 2011 to produce $50 million in pennies.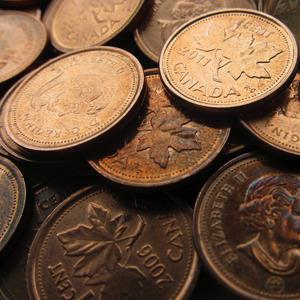 Canada is phasing out the penny, with the the Royal Canadian Mint on Monday halting distribution of pennies to banks and other financial institutions. 

That means that the supply of Canadian pennies will gradually decline and eventually go the way of the dodo. But why is our northern neighbor taking the step, and should the U.S. follow in its footsteps?
Canada's reasoning is partly financially driven: Each penny costs the country 1.6 pennies to make. But Shelly Glover, Parliamentary secretary to the minister of finance, noted another couple of reasons in bidding farewell to the penny.
"They demand too much time, for too little return, of our small business owners," she said in a statement. Moreover, pennies "have sat idle for too long in forgotten penny jars and couch crevices."
That's something that most Americans can relate to. Who doesn't have a jar full of pennies sitting on a shelf? And who doesn't find their wallets bulging by the end of the month, since it seems too annoying and slow to count out cents when paying for items with cash? 
Getting rid of U.S. pennies isn't an unknown idea. There's actually a group called the Citizens to Retire the U.S. Penny, which is advocating for the cent's demise within the 50 states. Their reasons are fairly similar to Canada's penny-wise logic. 
"According to the U.S. Mint's 2011 annual report, the current cost of a penny is 2.4 cents per coin," the group's website notes. The group says that the U.S. spent almost $120 million in 2011 to produce $50 million worth of pennies. Of course, that's a drop in the bucket compared with the U.S. government's $3.5 trillion in annual spending.
So how will Canada lose its cents? Canada says consumers will still be able to redeem their pennies at banks or other financial institutions. The government also hints that Canadians may want to donate the coins to charities. 
Even though the government will stop minting the coins, they'll still maintain their value, the country's department of finance said. But it'll be up to businesses whether they want to accept pennies, it added. 
More on moneyNOW
DATA PROVIDERS
Copyright © 2014 Microsoft. All rights reserved.
Fundamental company data and historical chart data provided by Morningstar Inc. Real-time index quotes and delayed quotes supplied by Morningstar Inc. Quotes delayed by up to 15 minutes, except where indicated otherwise. Fund summary, fund performance and dividend data provided by Morningstar Inc. Analyst recommendations provided by Zacks Investment Research. StockScouter data provided by Verus Analytics. IPO data provided by Hoover's Inc. Index membership data provided by Morningstar Inc.
MARKET UPDATE
[BRIEFING.COM] After spending the first two hours of the trading day in a steady slide, the S&P 500 has maintained a four-point range over the past 60 minutes.

The materials sector (+0.1%) has been able to stay out of the red, but its slim gain is now in jeopardy following an orderly decline from the opening high. Steelmakers have factored into the retreat as evidenced by a 2.9% decline in the Market Vectors Steel ETF (SLX 47.23, -1.40). Miners haven't done much to turn the ... More
More Market News