Railroads may save Californians at the pump
The Golden State's geography isolates it from most domestic oil and gas supplies. But growing shipments via rail might change that.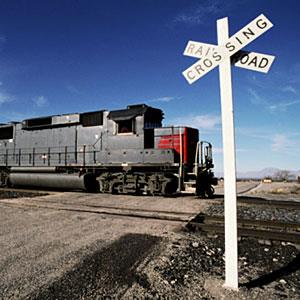 Californians might like to think of themselves as being on the cutting edge of American trends, but their state remains woefully isolated when it comes to oil and gas supplies.
The Golden State ranks first in the nation for gasoline consumption, and it has has some of the nation's highest gas taxes. Many of its counties use a more expensive gasoline mixture that creates less smog and other pollutants to meet the state's strict air quality standards.
And while it remains a major oil producer, California has a relatively small number of oil refineries and terminals. Also, only a very limited number of of pipelines bring in refined gas and oil overland from elsewhere in the country. In fact, according to the Los Angeles Times, last year marked the first time that California had to import more than half of its oil (50.7%) from overseas.
But some relief may be coming: Many experts believe oil and gas transported by rail -- especially from North Dakota's fast-growing oil fields, where few pipelines have been built yet -- may help relieve California's gas and oil crunch.
The U.S. Energy Information Administration notes that, while pipelines still transport about two-thirds of all U.S. oil and petroleum products, the amount of those products moved by America's railroads was up 38% during the first half of 2012, compared to the same time period in 2011.
BNSF Railway, a subsidiary of Berkshire Hathaway (BRK.A), serves many Western states. And according to the L.A. Times, BNSF moved 100 million barrels of oil last year, compared to just 1.3 million barrels in 2008. Also in 2012, the company invested $197 million in new track, rail replacements and other projects in North Dakota and Montana.
The Times says big refineries and oil companies, like Chevron (CVX), Valero Energy (VLO) and ConocoPhilips (COP), are all on board when it comes to improved and expanded rail transportation of their products.
"Frankly, rail looks to us that it's going to be very, very viable into the West Coast," William Klesse, chairman and CEO of Valero, told the newspaper. Californians can only hope he's right.
DATA PROVIDERS
Copyright © 2014 Microsoft. All rights reserved.
Fundamental company data and historical chart data provided by Morningstar Inc. Real-time index quotes and delayed quotes supplied by Morningstar Inc. Quotes delayed by up to 15 minutes, except where indicated otherwise. Fund summary, fund performance and dividend data provided by Morningstar Inc. Analyst recommendations provided by Zacks Investment Research. StockScouter data provided by Verus Analytics. IPO data provided by Hoover's Inc. Index membership data provided by Morningstar Inc.
MARKET UPDATE
[BRIEFING.COM] Precious metals are trading lower this morning. Dec gold brushed a session low of $1212.50 in recent action and is now down 0.2% at $1214.60. Dec silver traded as low as $12.57 but has been inching higher in recent trade. It is currently at $17.71, or 0.8% lower.

Nov crude oil pulled back from its session high of $91.82 set at pit trade open and is slipping deeper into negative territory. It touched a LoD of $90.77 and is currently down 0.9% at $90.86.

Oct natural ... More
More Market News