The high cost of daylight-saving time
Changing the clock is dangerous to our bodies and hurts the economy. Why continue this outdated policy?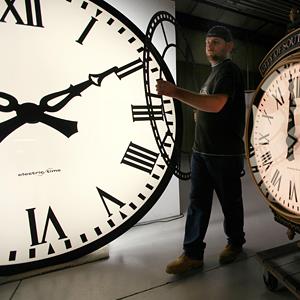 Daylight-saving time made sense, oh, 230 years ago, when Benjamin Franklin bemoaned the fact that people were sleeping in during the morning daylight and burning candles at night.
But is there really much point to it anymore?
The idea of daylight-saving time has always been about conserving energy. But these days, when turning the lights on at night isn't nearly as wasteful as it once was, any benefit from energy conservation is far outweighed by the economic drawbacks of a time switch.
Very little research has been done on whether daylight-saving time has a real-life benefit in terms of energy demand.
In fact, after Indiana began observing daylight-saving time in 2006, economists from the University of California
found that
 household electricity bills actually went up by a cumulative $9 million a year.
Here are seven other reasons daylight-saving time should be put out to pasture:
1. It wastes air conditioning. In the fall, we're essentially using an extra hour of sunlight in the evening. But in warmer climates, that means more energy is used on air conditioning.
2. It increases pollution. One extra hour of daylight used means more time to run around doing errands and enjoy the long summer evenings. But that leads to increased emissions.
3. It messes with your body. Earlier waking times and sleep deprivation, not to mention a disruption in your sleeping patterns, can be hard on the body. A 2008 study in the New England Journal of Medicine showed a significant increase in heart attacks in the first three weekdays after the transition to daylight saving time in spring.
4. It brings more drowsy drivers. Sleep deprivation can be deadly on the road. The National Road Safety Foundation is warning drivers this week to be extra careful as they adjust to waking up an hour earlier.
5. It hurts the economy.
A new study from
SleepBetter.org
says moving the clock ahead each spring causes $434 million in losses to the U.S. economy. Because we're all so tired, there are higher chances for workplace injury and loafing around on the job as we wait for the coffee to kick in.
6. Cows hate it. Daylight-saving time is supposed to be good for farmers. And while it gives farmers another hour to get things done, the cows don't like it, one dairy farmer told The San Francisco Chronicle in 2008. In the fall switchover, his cows end up waiting an extra hour to be milked, and they don't like it.
"I just wish (the time) would stay set," the farmer told the newspaper. "It's cumbersome to get all your clocks changed. I wonder if it's worth all the hassle."
7. It's annoying. Adjusting all the clocks and waking up earlier is just plain irritating.
Not everyone hates daylight-saving time. Retailers love it because more shoppers head into stores. Golf companies adore it and told Congress in 1986 that one month of daylight saving translated into $400 million a year in extra sales and fees, according to Scientific American.
More from MSN
DATA PROVIDERS
Copyright © 2014 Microsoft. All rights reserved.
Fundamental company data and historical chart data provided by Morningstar Inc. Real-time index quotes and delayed quotes supplied by Morningstar Inc. Quotes delayed by up to 15 minutes, except where indicated otherwise. Fund summary, fund performance and dividend data provided by Morningstar Inc. Analyst recommendations provided by Zacks Investment Research. StockScouter data provided by Verus Analytics. IPO data provided by Hoover's Inc. Index membership data provided by Morningstar Inc.
MARKET UPDATE
[BRIEFING.COM] The stock market finished an upbeat week on a mixed note. The S&P 500 shed less than a point, ending the week higher by 1.3%, while the Dow Jones Industrial Average (+0.1%) cemented a 1.7% advance for the week. High-beta names underperformed, which weighed on the Nasdaq Composite (-0.3%) and the Russell 2000 (-1.3%).

Equity indices displayed strength in the early going with the S&P 500 tagging the 2,019 level during the opening 30 minutes of the action. However, ... More
More Market News