Sales slumps burst Black Friday bubble
Macy's and Target are among the retailers reporting November declines as big spending predictions fall flat.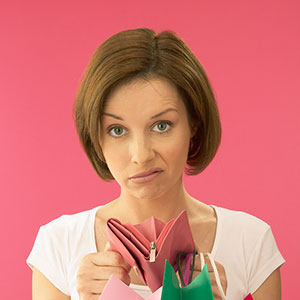 If you saw all the Black Friday advertising last week and thought to yourself, "There's no way this many people still wait in line for sales anymore," then congratulations. You called it.
All those voices of retail reason gave themselves a big pat on the back Thursday. The sales numbers for November certainly looked depressing, but even worse is this: Black Friday may be as much to blame as Superstorm Sandy.
Macy's (M), Target (TGT), Nordstrom (JWN) and Kohl's (KSS) all reported drops in November same-store sales from a year ago on Thursday, while 16 retailers tracked by Thomson Reuters recorded saw an overall 1.6% same-store sales increase. That slight boost would have been just fine, had analysts not predicted a 3.3% jump.
Despite upticks in consumer confidence and positive signs in the housing and job sectors, shoppers' holiday enthusiasm just isn't living up to the hype. The U.S. economy grew 2.7% in the third quarter, the Commerce Department said Thursday, but household purchases increased a scant 1.4%. That's the smallest increase in more than a year and down from early estimates of 2%.
If retailers didn't see this coming, they should have. According to MasterCard's (MA) consumer tracker SpendingPulse, spending among its card users from Oct. 28 through Nov. 10 was down almost across the board. Women's apparel decreased 6.3% from last year, including a more than 9% slump during the week Sandy hit the Northeast. That's after a 5.8% year-over-year gain in October. Electronics sales fell 3.4% during the same period, reversing October's 2.4% increase.

Even positive signals don't always result in sales. ShopperTrak, for example, reported that foot traffic on Black Friday increased 3.5% to an estimated 308 store visits. Macy's might agree with that assessment, as it claimed this was its largest-volume weekend in Thanksgiving history. That fueled lots of transactions, but Macy's 0.7% drop in November same-store sales indicates those buys may not have been as big as the retailer would have liked. The company blamed Sandy for missing analysts' predictions of a 1.5% increase, but fellow retailers gave their losses more complex explanations.
Kohl's same-store sales dropped 5.6% after analysts expected a 1.9% gain. Foot traffic wasn't a problem, but "showrooming" was. The discount chain saw a "significant shift in Black Friday-related sales into our e-commerce channel" by people checking out products in-store and getting them cheaper online. IDC Retail Insights estimates that 48 million U.S. shoppers will showroom items this holiday season, up from 20.5 million in 2011. The group estimates showrooming could influence as much as $1.7 billion in purchases this holiday.
Target has had similar trouble with showrooming, instituting a price-matching policy and allowing customers to scan items from its store and buy them cheaper on its own website. It didn't help, as same-store sales for November fell 1% despite analysts' projection of a 2.1% increase. Nordstrom, meanwhile, said Sandy contributed to its 1.1% same-store sales slump, but placed much of the blame on a failed clearance sale that packed stores with items consumers simply didn't want. Analysts had pegged Nordstrom for a 4.3% increase.
So what happened to projections from groups like the National Retail Federation, which estimated a 13% increase in Black Friday spending to $59 billion? Not only did that represent a slowdown from last year's 16% growth but, as money manager Barry Ritzholz points out on his blog The Big Picture, those NRF surveys are based on only shoppers' intentions.
"The data supports the theory: There is zero correlation between what people say their gift shopping intentions are on these surveys, and what they actually spend," Ritzholz wrote.
Of course. Think about a statement of intention for a second. We could state right now that we're going to turn this article into a sequel to "To Kill A Mockingbird" that features Scout as a cyborg bounty hunter and a zombie Atticus Finch who subsists solely on the brains of backward racists. Immediately after writing that sentence, it may occur to us that such a thing would be a costly, foolish proposition and a complete waste of time and we'd scrap the idea out of hand.
The same thing happens with consumers surveyed by the NRF when their eyes get too big for their wallets, which explains why the NRF's holiday track record has been a bit spotty. Ritzholz notes that in 2005, the NRF forecast a 22% increase in shopping over Thanksgiving weekend. It increased just 1%. A forecast 18.9% uptick turned into a 5% actual increase in 2006. It was worse in 2007 and 2008, when predicted 4% and 2.2% gains turned into 0.4% and 6% losses. Even when the survey predicted a dire 43% drop in spending during recession-plagued 2009, sales actually rose about 3%.
Even this Black Friday's results are still murky. U.S. retailers including Wal-Mart (WMT), J.C. Penney (JCP) and Saks (SKS) don't report same-store sales. Some stores that do didn't fare so shabbily, either. Gap (GPS) missed analyst projections, but still managed a 3% increase. Costco's (COST) same-store sales rose 6% in November, beating analysts' expectations. Limited Brands (LTD), the parent company of Victoria's Secret, saw same-store sales rise 5%. Visa (V), meanwhile, saw consumer purchases hit a record $5 billion on Thanksgiving weekend.

While the big figures leading up to Black Friday obviously excited some folks into hitting the sales, the real numbers still support those who stayed home and got some sleep.

More from Top Stocks
DATA PROVIDERS
Copyright © 2014 Microsoft. All rights reserved.
Fundamental company data and historical chart data provided by Morningstar Inc. Real-time index quotes and delayed quotes supplied by Morningstar Inc. Quotes delayed by up to 15 minutes, except where indicated otherwise. Fund summary, fund performance and dividend data provided by Morningstar Inc. Analyst recommendations provided by Zacks Investment Research. StockScouter data provided by Verus Analytics. IPO data provided by Hoover's Inc. Index membership data provided by Morningstar Inc.
MARKET UPDATE
[BRIEFING.COM] The stock market finished an upbeat week on a mixed note. The S&P 500 shed less than a point, ending the week higher by 1.3%, while the Dow Jones Industrial Average (+0.1%) cemented a 1.7% advance for the week. High-beta names underperformed, which weighed on the Nasdaq Composite (-0.3%) and the Russell 2000 (-1.3%).

Equity indices displayed strength in the early going with the S&P 500 tagging the 2,019 level during the opening 30 minutes of the action. However, ... More
More Market News